Christmas is the time of year where all the games come out of hibernation and we sit down as a family to play them, often with hilarious results, as the kids battle to be the best. As you can imagine, it gets very competitive between the older and the younger ones.
Now there is a new game on the block, aimed at families with teenagers and young adults, called Out of Order.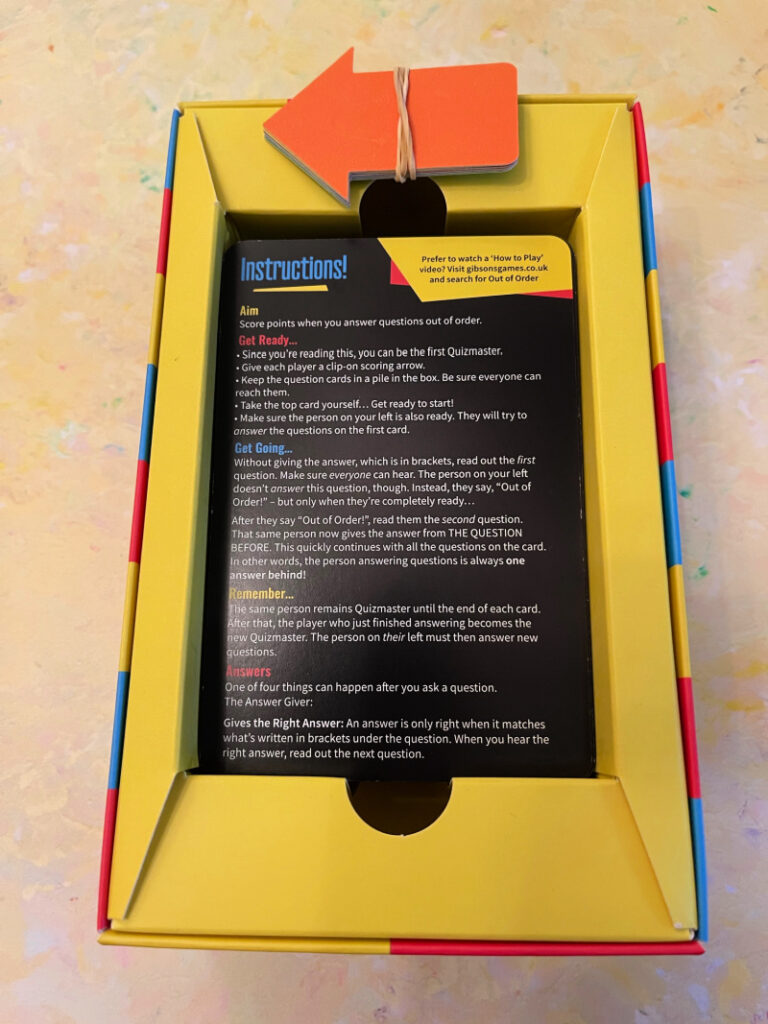 This is a new fast-paced party game, where players score points for knowing that Bill and Ted are Prince Charles' sons or that Pineapple Wide Shut was a film starring Tom Cruise…
This quirky quiz that sees you race through just five questions per card – and they're not that hard! 
So, what's the catch? 
You must give the answer from the question before… with hilarious tongue-in-cheek results!
It's 10-15 minutes of fun for 2-6 players. Pick a quiz master to read out the first question on the card – instead of answering, just say, "Out of order!" When you hear question 2, give the answer to the question before! Play continues like this for all five questions on the card.
Get one wrong or take too long and play moves to the next opponent, so there's no time for anyone to zone out or nip to the fridge!  There's also a fast fire bonus question at the end of each card – where any player can shout out the answer!  Score a point for every correct answer and mark it on the box with the clip-on scoring arrow – first to reach 20 points, wins! 
This game is perfect for taking travelling as it requires NO PENCIL, NO PAPER, NO BOARD! You simply keep score with your arrows on the lip of the box, or you could buy for your students as it makes a great drinking game too.
We cannot wait to enjoy a proper family game with ALL of us, when the kids come home for Christmas!!
Out of Order has an RRP of £16 is available from Gibsons direct or Amazon and John Lewis.
Disclaimer: We were sent Out of Order to review. All thoughts and opinions are our own.