Are you after a toy that is guaranteed to get everyone giggling this Christmas.
Meet Tan Tan the Orangutan from Jiggly Pets.
I was first introduced to Tan Tan at BlogOn Conference and he immediately brought a smile to my face. I then introduced him to Isaac and Eliza who were also there, demonstrating some games and they loved him too.
Tan Tan has a super-soft, stretchy rubbery face and body, which walks, shakes and jiggles to the rhythm of the music. I mean, he as an Orangutan who twerks to his very own catchy songs!!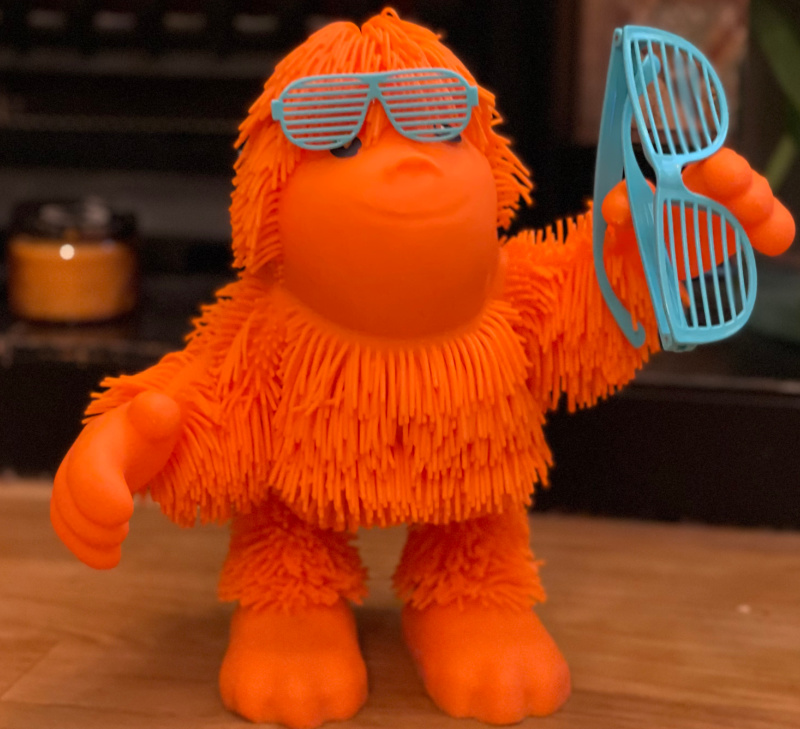 To get Tan Tan dancing, simply press his foot to bring him to life. Watch him dance and shake his booty to the beat of his jungle tunes.
Tan Tan has soft and stretchy bright orange hair which jiggles around as he moves to the music!
Tan Tan the Orangutan also comes with two pairs of party sunglasses – one for Tan Tan and one for you, so you can put on your matching glasses as you dance along to his three in-built tunes with Tan Tan!
The perfect birthday or Christmas present for kids aged 4 and over who love electronic, interactive animals. Children will have endless fun showing Jiggly Pets Tan Tan the Orangutan to their friends and family and starting a hilarious dance off that is bound to get everyone up and dancing!
Tan Tan the Orangutan is available at Smyths Toys with an RRP of £24.99
Disclaimer: We were sent Tan Tan to review. All thoughts and opinions are our own