We are now seasoned veterans of Camp Bestival, with this year being our 6th annual visit and I have to say this year's event was Camp Bestival back to its very best!!
We decided to do things differently this year and booked ourselves into Camping Plus which allows you to book your camping plot before you arrive. The clever booking system is set up a bit like Theatre seats, so you can book pitches next to friends if you choose and then turn up anytime during the weekend and we booked close to Laura from TiredMummyofTwo so our kids could play together.
We were pitched in the Indigo section and could see the Big Top from our tent and I was initially concerned that it would be much noisier than general camping, but I needn't have worried as the shield of camper vans in front of us seemed to block out much of the sound.
We arrived on Thursday to set up, which is historically a day when nothing apart from a couple of food vans are open, however we were pleased to find that the Upper Kids Garden was open which is home to the Feast Collective – some of the best street food from around the country, and circus skills to keep the kids entertained.
Friday is when the real fun begins and after much discussion by the kids, our first destination was Lizzie's Way, in the Dingly Dell.
Dingly Dell
It doesn't matter that the kids are getting older, Lizzie's Way is somewhere they all love.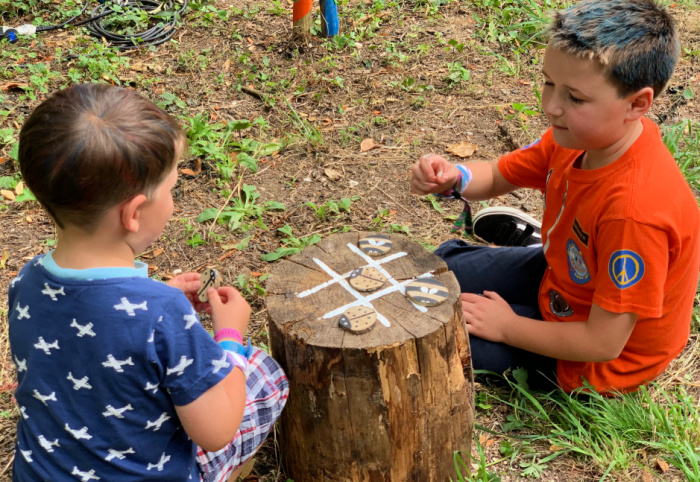 With activities such as puppet shows, nature based games, the wishing tree, potion making and the favourite 'mud kitchen', it allows kids to play, just as nature intended – just be prepared for them to get filthy!! (there is a sink and tap where they can wash their hands).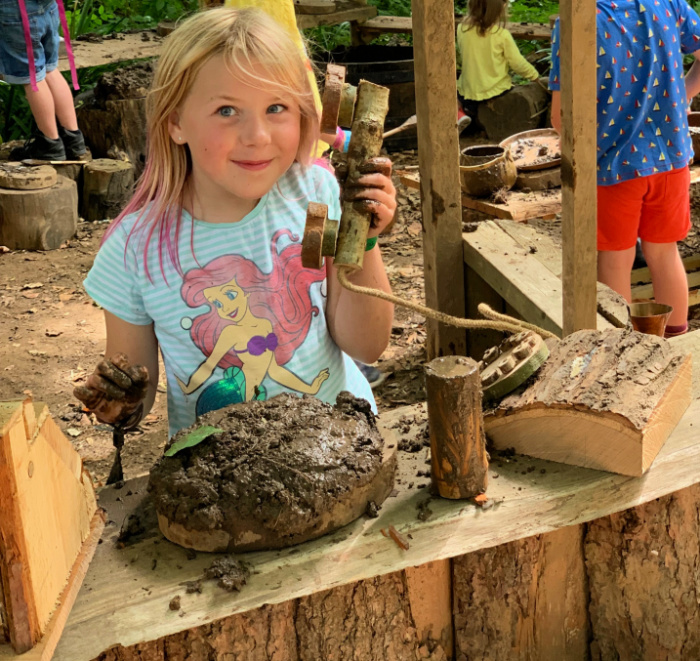 This year they added a "little' Lizzie's Way area" for pre-school children, which not only gave little ones their own play area, but gave older children like mine more space to play.
Lizzie's Way is based in the Dingly Dell and also there is a children's adventure play park, the Woodland Trust who were running kids workshops, the Great Big Tree Climbing Company giving kids tree climbing lessons and slow motion area, which offers holistic treatments and an area to relax away from the hustle and bustle of the rest of the site.
Acts and Shows
As the kids get older they are more interested in the music acts, although that didn't stop them enjoying the kids one too and this year was a CBeebies takeover with Mr Tumble, Mister Maker, Mr Bloom and CBBC's Sam and Mark on the bill.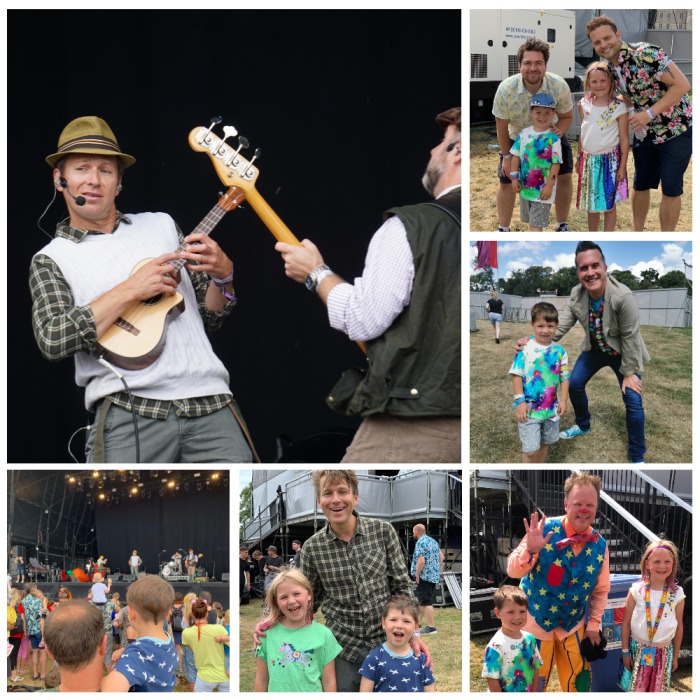 Music wise the kids enjoyed all the headliners: Jess Glynn, Lewis Capaldi, Nile Rogers and Annie Mac.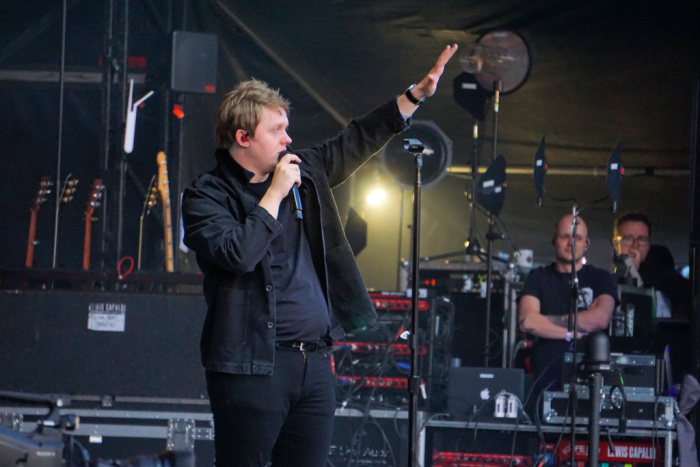 The firm favourite of the weekend though had to be the Vengaboys, who got the party started with a set of party tunes and an epic finale with all the kids from the audience joining them on stage.
Eliza and Sebastian also found them on stage in Caravanserai with local band Pronghorn who play a cowpunk set that you can't help to dance to.
We found a few things had moved around this year – most of the fairground rides and the world's biggest bouncy castle were now situated by the castle itself in the main field instead of being dotted around the site.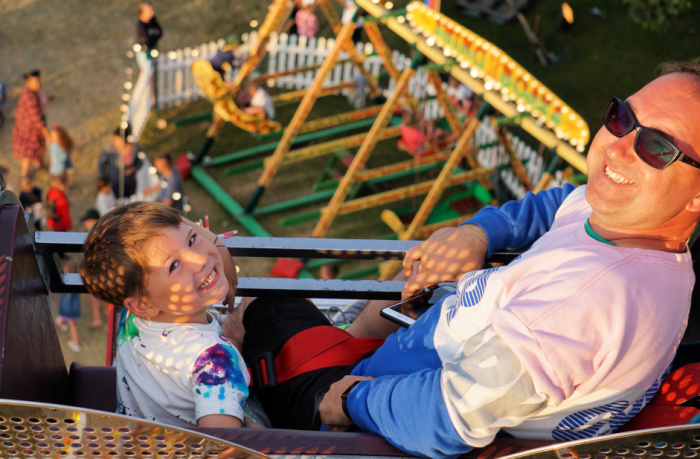 Caravanserai, a brilliant festival within a festival, was positioned opposite the Big Top and the kids really enjoyed the eclectic acts and music inside.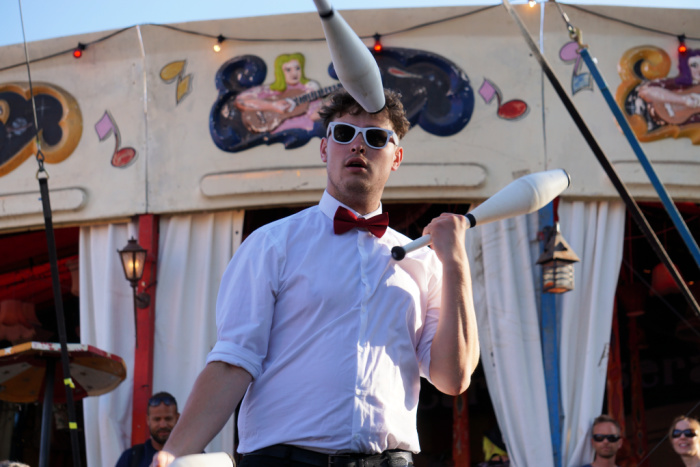 Gorilla Circus had much more room this year and were more centrally set up outside Bollywood.
Upper Kids' Garden
The Upper Kids' Garden is situated on the lawn behind the castle and has activities including Circus Skills, Punch and Judy shows, an inflatable play area, baby area and BigTopMania, where kids can watch and take part in shows.
It is also one of the most shaded area on site, so is a great place to stop, relax and watch the kids as they play.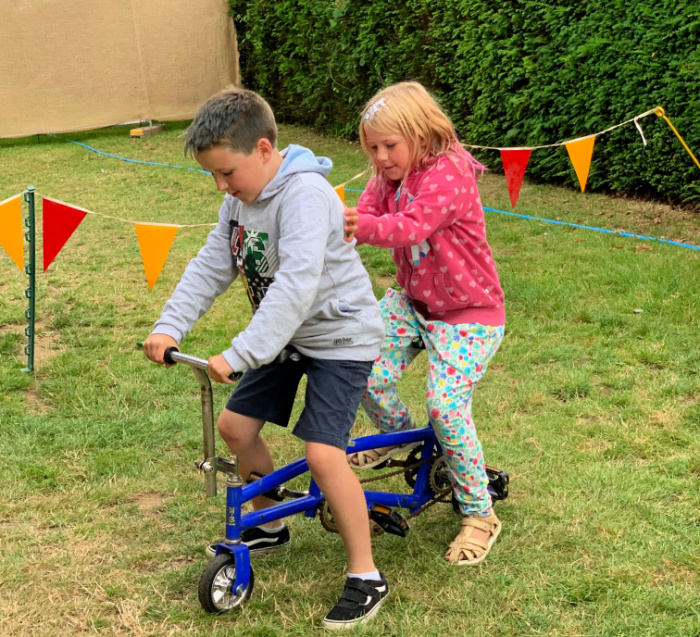 Lower Kids Garden
The lower kids garden is packed full of fun things to do including the Science Tent, Insect Circus, LOL Surprise workshop, Helter Skelter, Cardboard City, the Greatest Tent on Earth and much more!!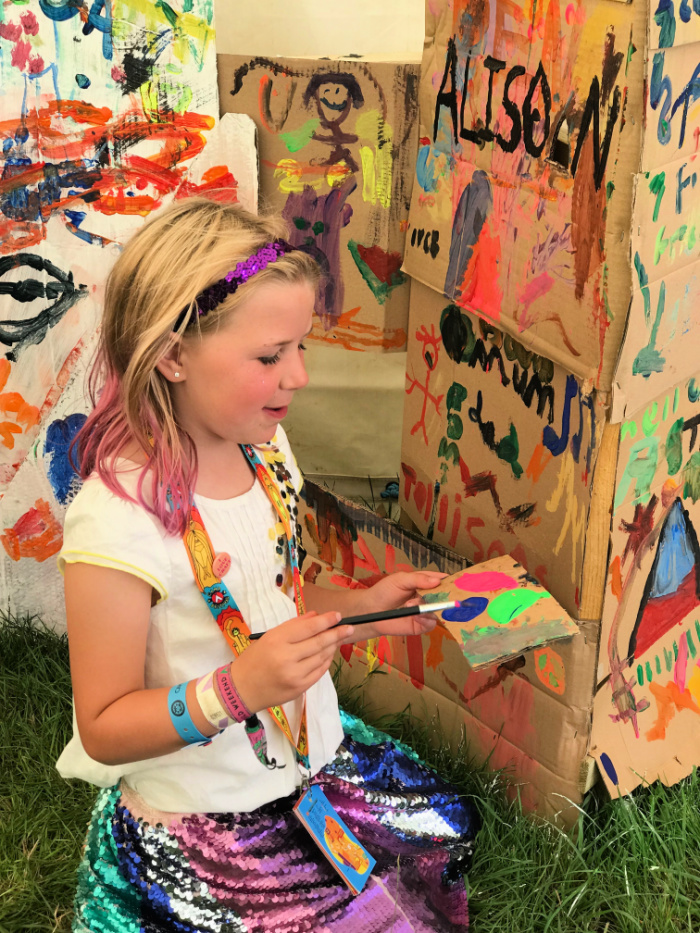 I love the idea of Cardboard City, as all the cardboard packaging from Camp Bestival comes here for the kids to build, decorate and paint to save waste. The kids also enjoyed the Science Tent where they got to see and take part in live shows as well as making slime and parachutes.
Eliza got glittered and took part in a catwalk at the LOL Surprise stand.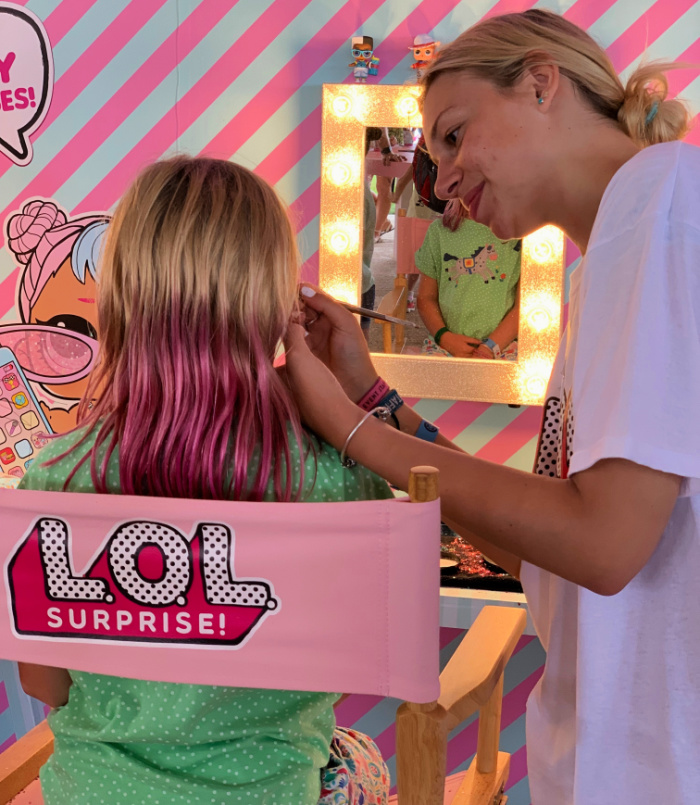 We did give in and pay for the kids to go on the Helter Skelter and the swing boats this year, but almost all the other activities are free.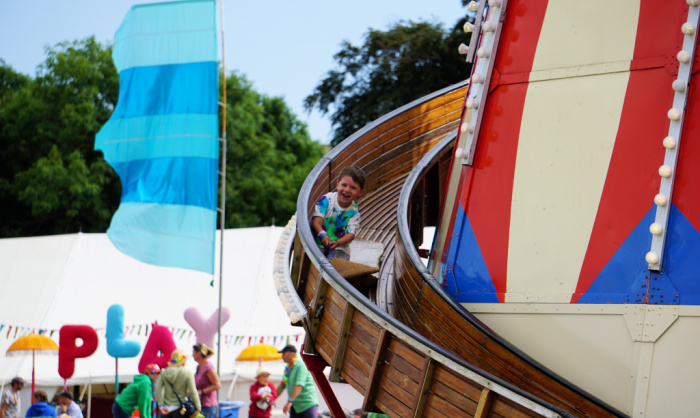 Food wise, their favourite stand is in this field – Corn on the Cob!!
And you can also find lots of quirky stalls for souvenirs and festival, steampunk and gothic goodies. Isaac loved his steampunk glasses.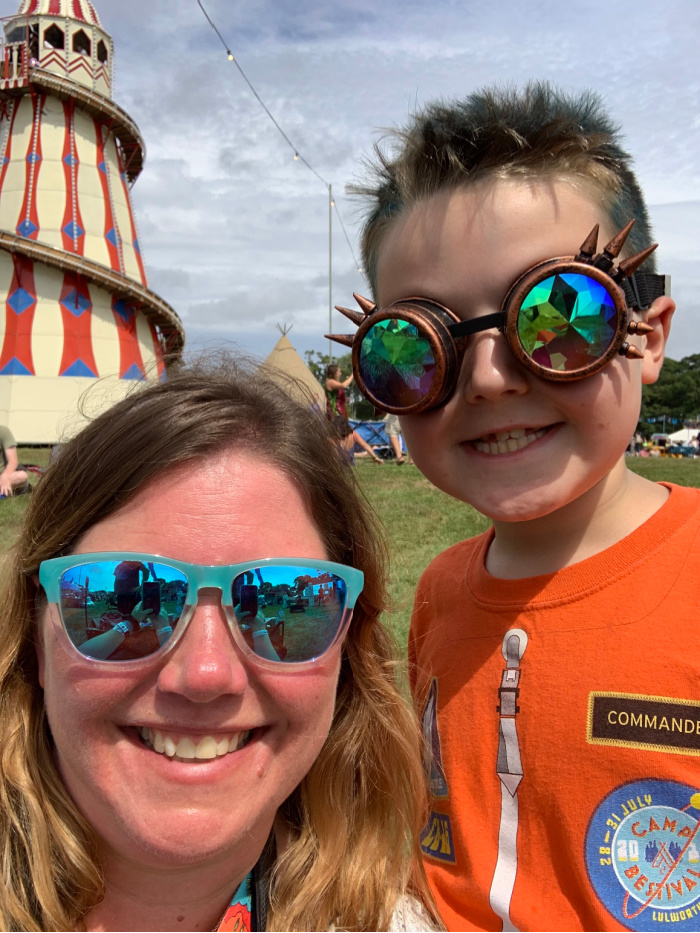 Wild Tribe
Wild Tribe is a brand-new kids area designed to encourage screen-free time and had activities such a bushcraft, wild adventures, mud slides, drumming circles and structure building.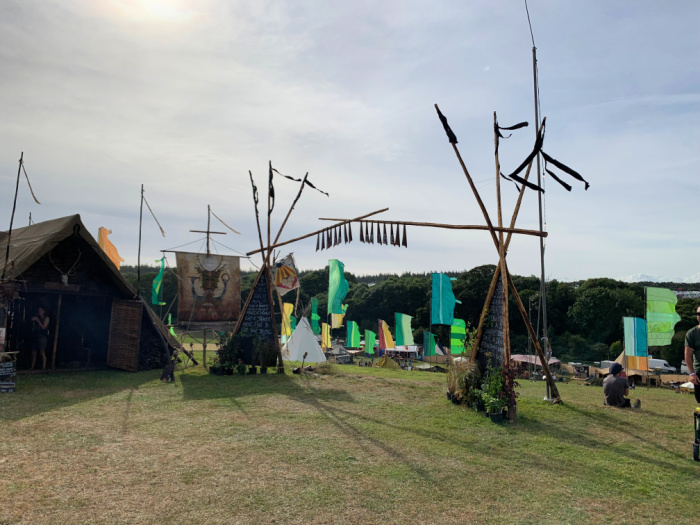 The kids really enjoyed helping build the wooden structure, but one of the highlights of the weekend was seeing it being burned down by a huge fire breathing dragon!
The Fireworks Finale
After two years of missing the fireworks thanks to the weather, we were very much looking forward to this highlight of Camp Bestival and were not disappointed.
Lulworth Castle was bathed in a show featuring sound, light, projections, fire and high drama, all with the superhero theme. It was the perfect end to a brilliant weekend!!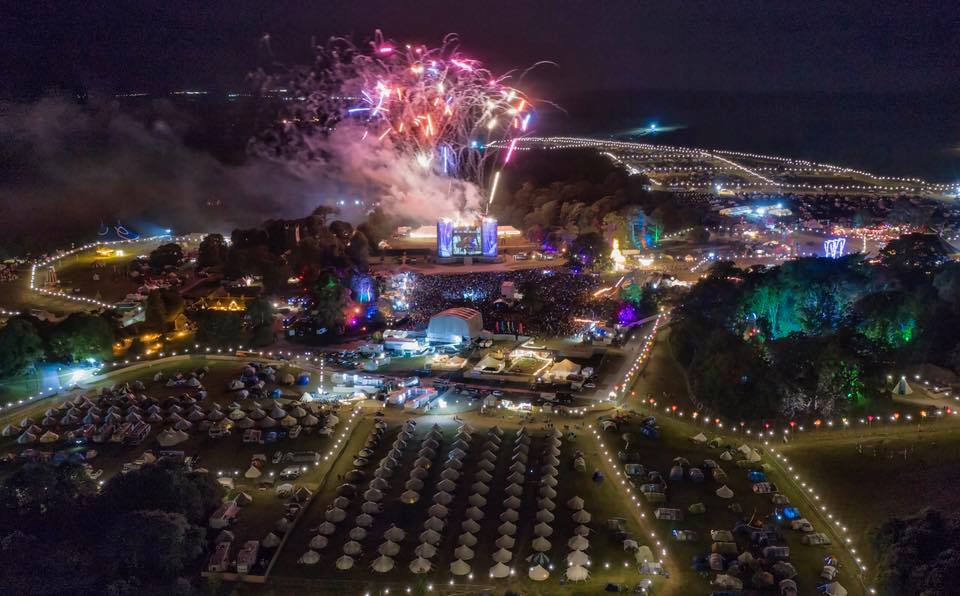 I am pleased to reveal that Camp Bestival is returning from 30th July – 2nd August 2020 and early bird tickets are now on sale – head to campbestival.net for more information.
Disclaimer: We were guest of Camp Bestival for the purpose of a review. All thoughts and opinions are our own