When we booked our holiday to Puy du Fou, we decided to extend the break by a couple of days and head to another theme park that had been recommended to me – Futuroscope.
Futuroscope is just under a two hour drive from Puy du Fou, just north of the city of Poitiers in North West France.
Where Puy du Fou is based on the history of France, Futuroscope is the polar opposite and is based upon multimedia, cinematographic and audio-visual techniques, with several 3D and 4D cinemas along with other attractions, shows and buildings, not seen anywhere else in the world.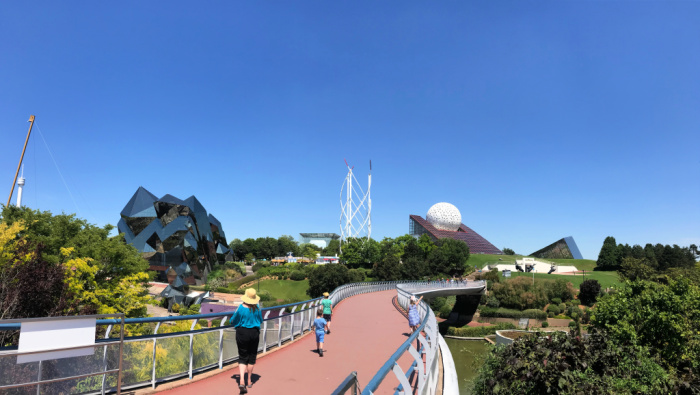 At the entrance of the park, translation headsets are available in Guest Services alongside visitor maps of the park in English. Make sure you get a map for each day you are there as ride / performance times are subject to change.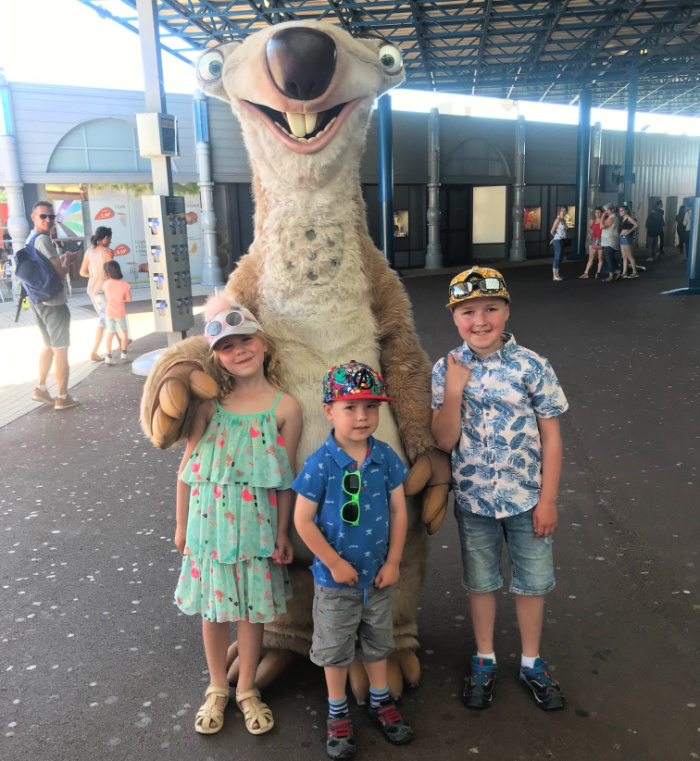 The park itself is very relaxed and well laid out, with plenty of gardens laid out with beanbags, chairs and hammocks under the trees so you can relax in the shade when it gets too hot.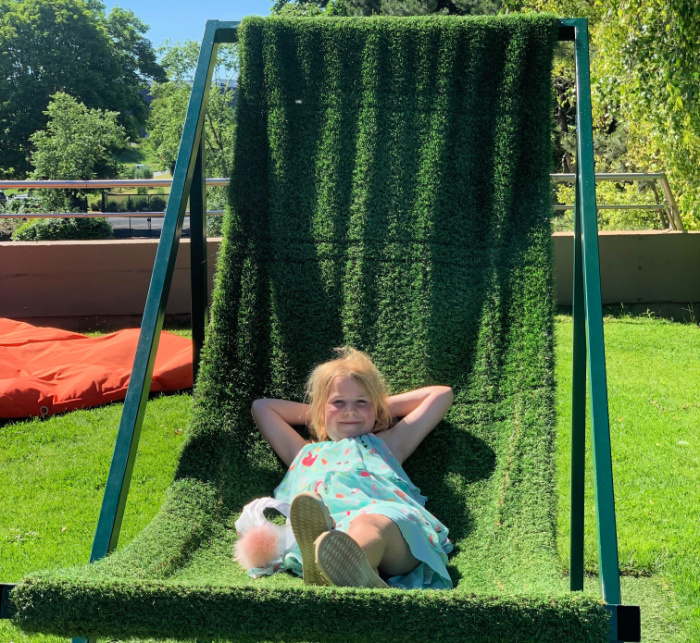 Our first show was in the simply stunning KinéMAX Theatre, which is designed to look like rock crystals bursting from the ground.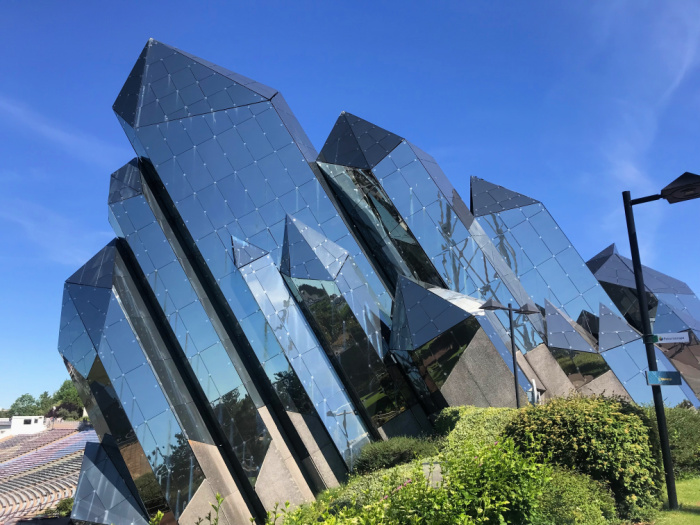 We had to queue outside for this show and were pleasantly surprised when we were each handed an umbrella to shade us from the sun.
The show is an incredible 4K IMAX cinema experience, which saw us journey into space with the European Space Agency's (ESA) youngest astronaut, Thomas Pesquet, to enjoy the highlights of his 6-month space mission 400 km above the Earth. It was fascinating seeing how the astronauts live and train in such a small space and was finished off with a space walk.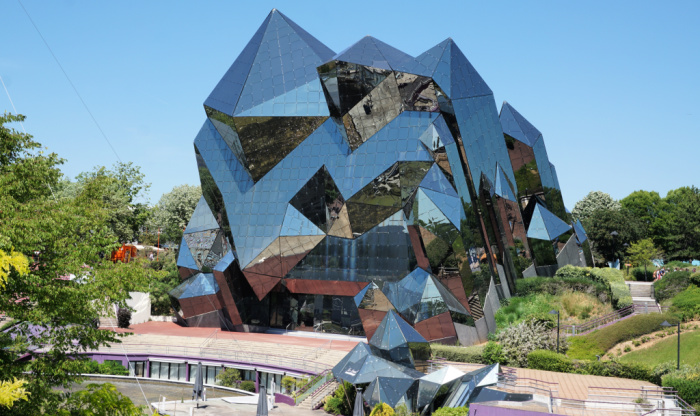 The great thing about Futuroscope is a mixes education with fun, so our next stop was a fun 4D ride based on the film Arthur and the Invisibles.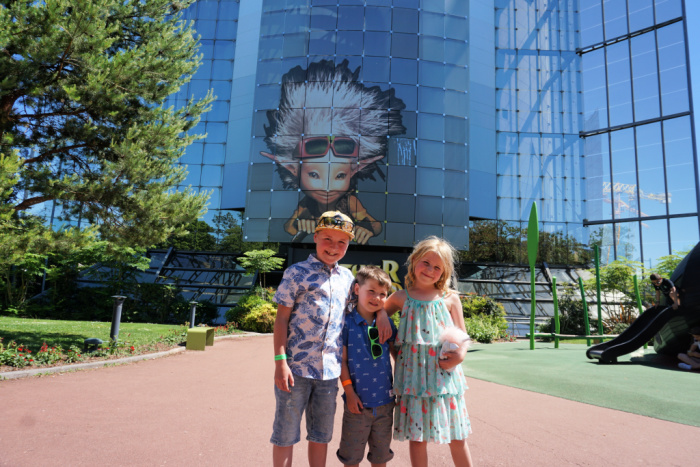 As you head inside, you are shrunk to the size of a Minimoy and walk through a giant world, before climbing aboard a ladybird for a daring flight around their world.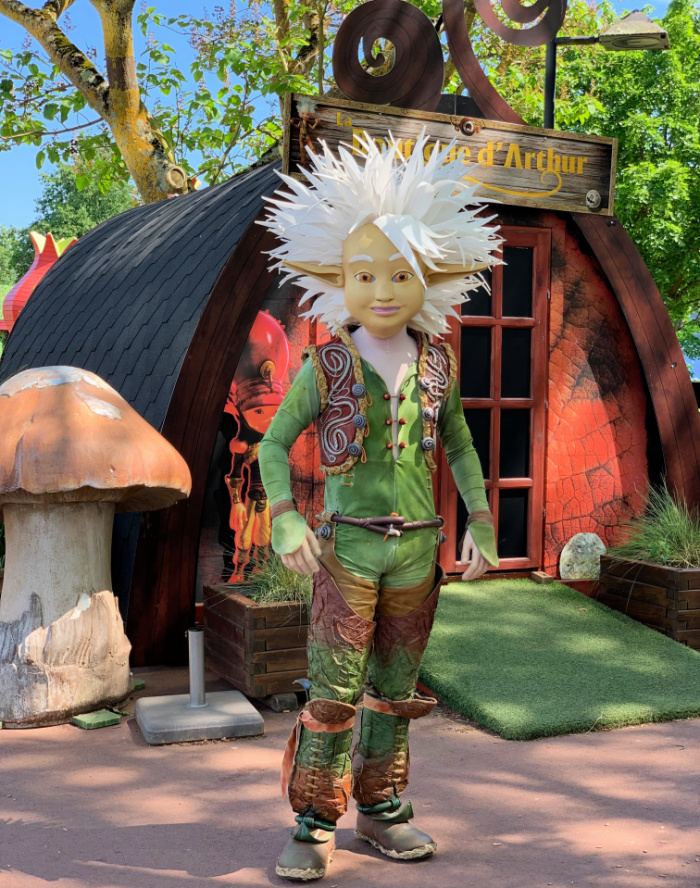 It was then time to join Scrat, Ice Age's resident nut-crazed sabre-toothed squirrel, for Ice Age: No Time For Nuts 4-D, where he battles a wonky time-machine that has zapped his beloved nut and whisks you through time and space.
It is also the best attraction for cooling off on a hot day!!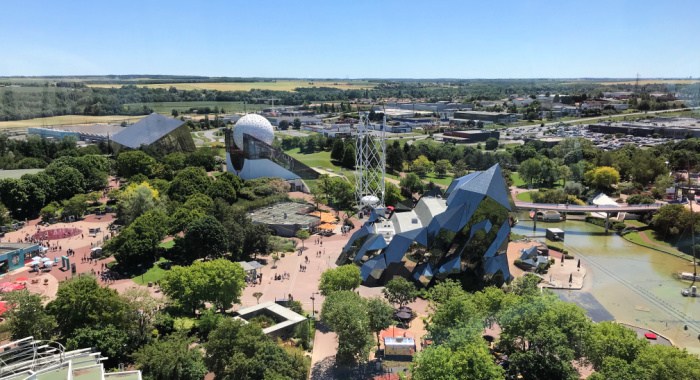 Our next stop was the Gyrotour, a 360° observatory that spirals gently up 150ft in the air so you can enjoy the outstanding panoramic view of the entire Futuroscope site and beyond.
From there, the kids spotted Futuropolis, an area devoted entirely to the kids with a boating centre, an electric car track, an aqualympic stadium, splash park and even an airport.
You could spend the whole day in this area of the park and it is perfect for keeping the younger kids entertained whilst the older ones experience some of the more thrilling rides on offer.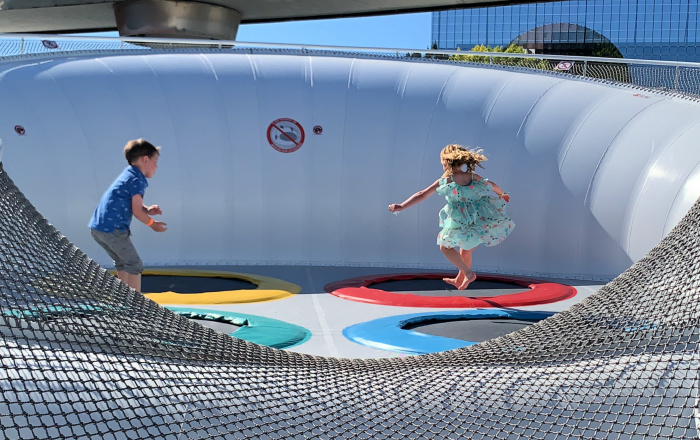 In fact, Futuropolis reminded me of Legoland Windsor as had some of the attractions, only it was much quieter with no queues.
Whilst I stayed in Futuropolis with Eliza and Sebby, Hubby and Isaac headed off to do a couple of the bigger rides, with the first being Sébastien Loeb racing.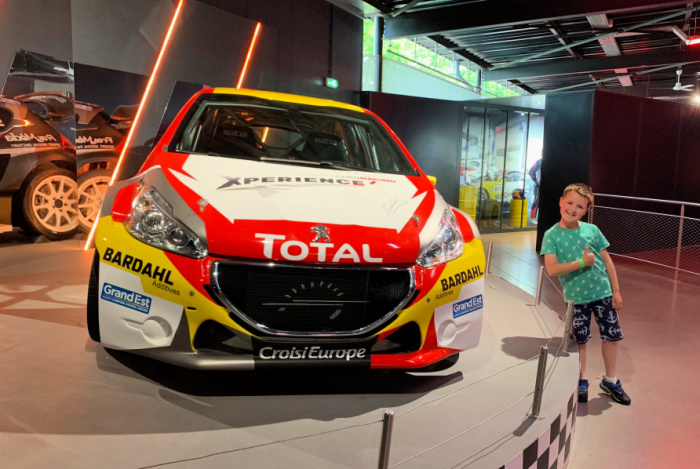 The Sébastien Loeb Racing Xperience is like no ride we have ever tried before. It is a 5D VR joyride where you are sat in a racing bucket seat and really feels like you are a passenger in a rally car as it speeds around the countryside.
Dynamic was next up, which is a flight simulation that sends you hurtling around another planet in a fusion of digital film action with moving seats.
We managed to get Eliza and Sebastian out of Futuropolis for the next ride – Dymanic Vienne which is set in a spectacular building that literally has water running down the sides and sees you on an exhilarating tour around Vienna in the company of the curious yet endearing Guerliguet.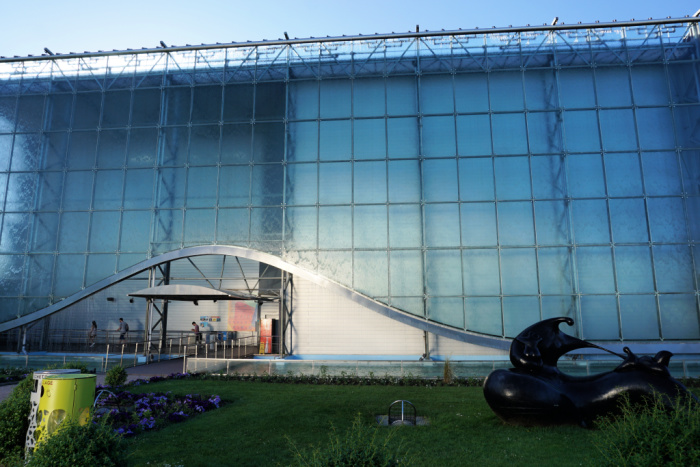 Directly opposite is the kids favourite ride of our entire two day visit – the Time Machine, or as we called it – The Rabbids Ride.
The ride is a 3D caper where we sit on toilets and follow the Rabbids through history, where they get up to mischief and potentially change the course of history.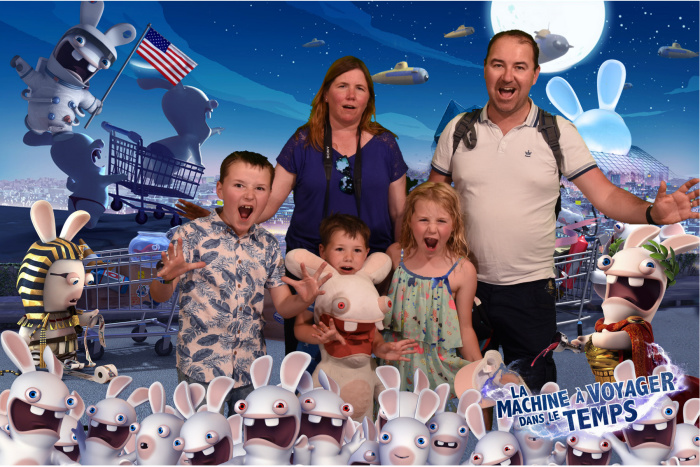 Another of our favourite rides was The Extraordinary Journey which sees you fly around the world with your feet dangling in the air.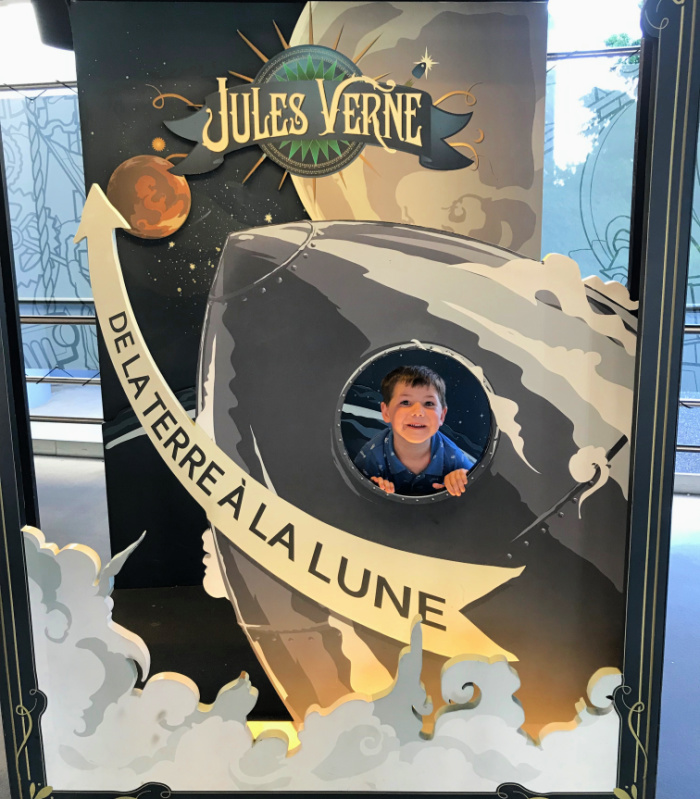 It really did feel like you were flying and you could smell spices as you flew through India and pine when you flew over forests – very clever.
Another of the shows this side of the park is Cosmic Collisions, which is set in a planetarium and show how the universe was formed.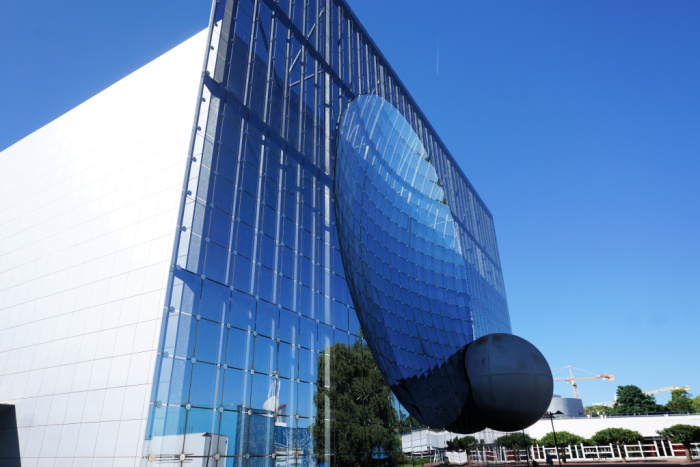 For those that need a break from technology, there are also two shows to go and see. The Kube Mysteries with acrobats and dancers and Illusio for a spot of magic.
As well as the play parks that are dotted around the site for the kids, there is L'Arena where you can challenge yourself to a dance off, hurtle down huge slides and even take part in a laser challenge.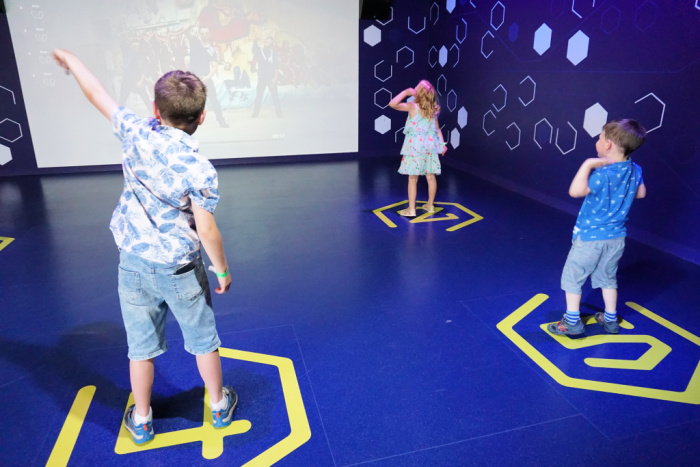 The Exhibition has robots, connected devices, smart wardrobes, and more to explore.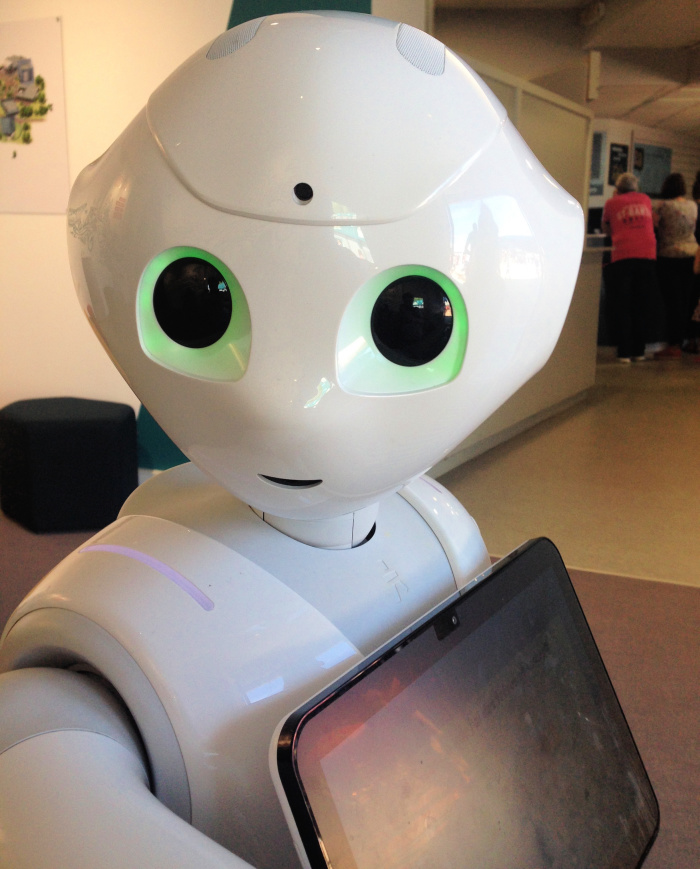 This exhibition also explores how we will communicate, use our imaginations and consume in the not too distant future, and lets you try out the groundbreaking technologies that will change how we live our lives in fun, hands-on experiences.
For those in need of an adrenalin rush, Dances with Robots is lots of fun and sees you pair up with a mate aboard a giant robot arm in the supercharged groove of a massive dance floor.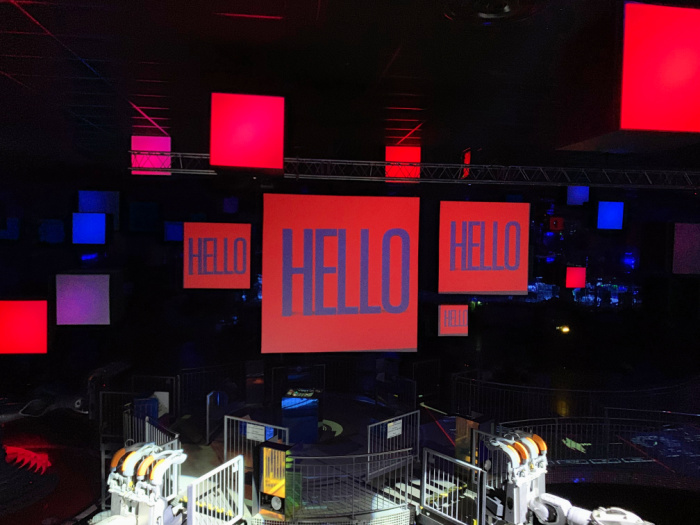 You can choose from three thrill levels before being sent flying into a whirlwind of dizzying excitement to a banging playlist from DJ Martin Solveig.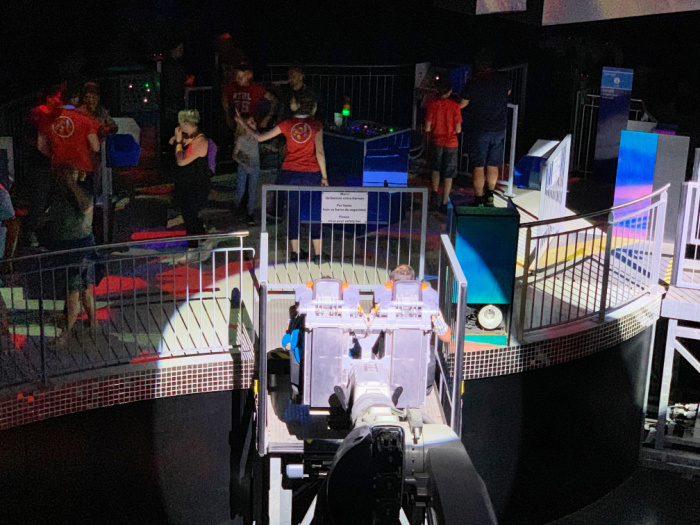 Most rides are open until 22.30 at night, but if you want to see the evening show, you need to find your spot in the stadium by 21.00.
Although the main show doesn't start until 22.00, there is an entertainer on hand to keep the kids occupied with a series of fun games.
La Forge aux Étoiles tells a magical story of a young, real girl who meets a virtual giant with his feet on the ground and his head in the stars which has been created by Cirque du Sol. It is a brilliant mix of laser projection, fountains, fire and fireworks, all set to a thumping beat.
Futuroscope is a brilliant day out for all the family and we have promised to go back in a couple of years so Sebby can try some of the rides he missed out on as he was too small.
Top Tips for visiting Futuroscope
1. You can do the park in a day, but a two day pass is better as you can explore at your own pace.
2. Go on a Sunday – I have never seen a theme park so quiet – we literally walked on to all the rides we wanted to go on without queuing.
3. Download the Futuroscope app, available on App Store and Google Play, as it has show and queue times on it.
4. Make note of the restaurant opening hours. It is not like a UK them park where they are open all day. Most close after lunch and re-open for dinner.
5. Take water bottles with you and top up at the water fountains in Futuropolis.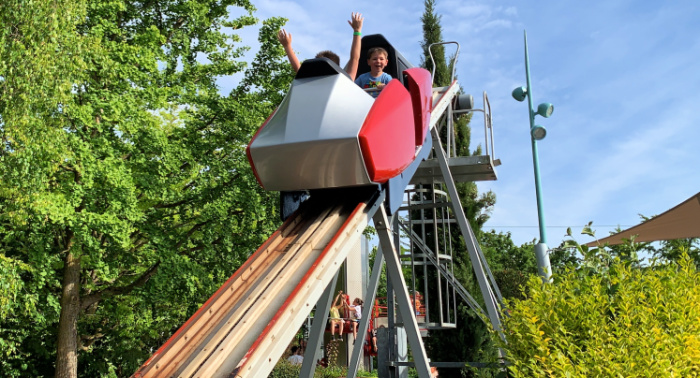 6. Take swimming costumes and towels for the kids so they can use the splash park.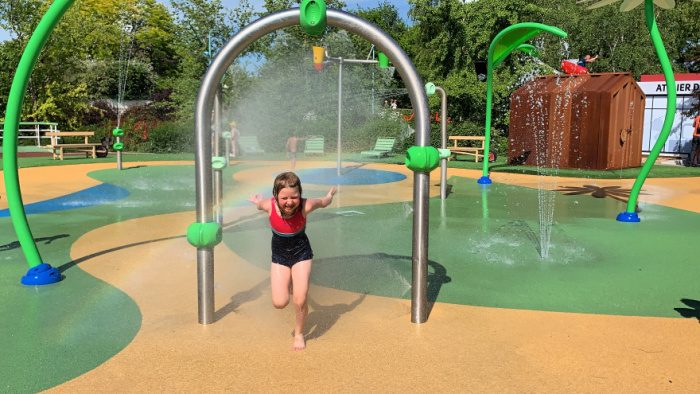 7. Be prepared for a full day in the park. It opens at 10am and the last evening show finishes at 11.30pm. Most rides stay open until 22.30 in the evening, but there are plenty of places where you can relax and chill out.
8. By a photopass, which costs €30 for one day or €45 for two – this allows you to download digital copies of all the photo's from the shows / rides.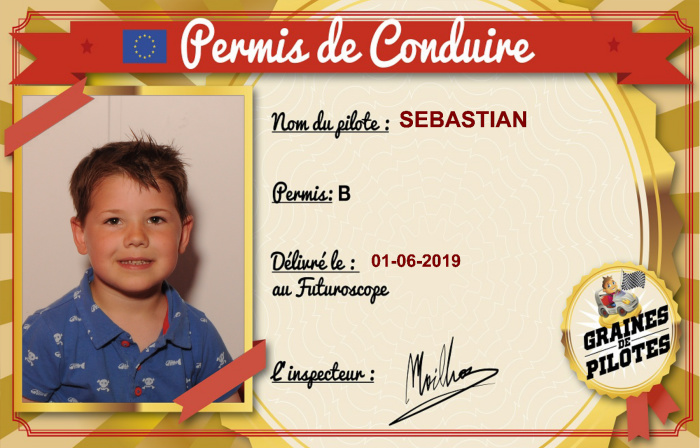 9. Factor in plenty of time for the kids to explore Futuropolis – there are lots of play areas and rides for them to try, many of which they can operate themselves
10. Get a translation headset at guest services so you can listen to the soundtrack on a digital receiver. A cash deposit of €40 is required per unit or proof of identity must be left e.g driving licence. Bring your own headphones, or you can buy some there.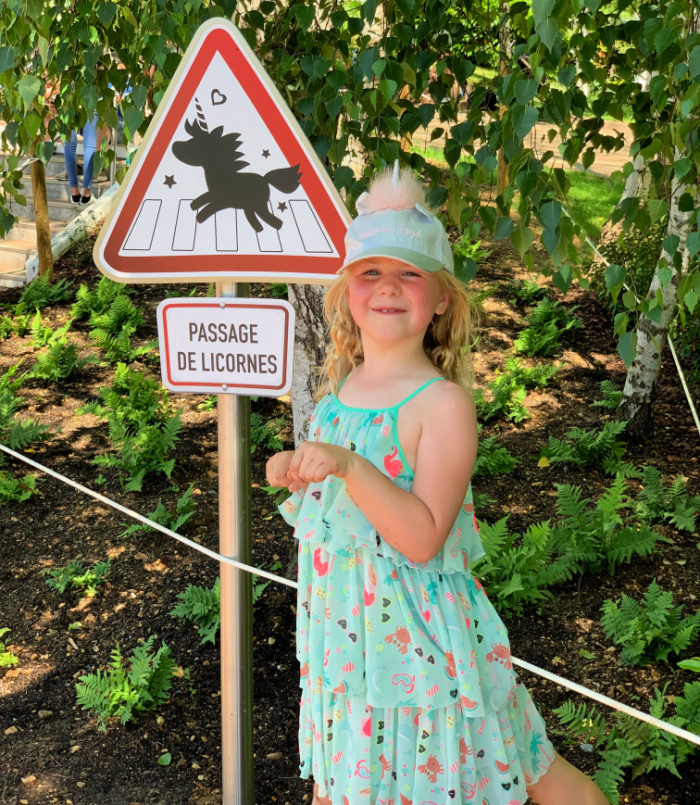 Entry to Futuroscope starts from €37 per person with children aged under 5 being free. Short breaks, including accommodation and breakfast start from €98 per person – for more information head to the website at https://en.futuroscope.com/prices-and-booking – we stayed at Hotel Alteora Futuroscope, a budget hotel just 500m from the entrance.
Disclaimer: We were given one day entry to Futuroscope for the purpose of a review. All thoughts and opinions are our own.