Last year I was lucky enough to visit Puy du Fou on a press trip with Britmums and fell in love with this little known theme park which is set in Les Epesses, in the heart of the Vendée region of Western France
Although Puy du Fou (pronounced "pwee de foo") is a park with a theme, there are no rides and no tacky merchandise, just pure entertainment in the form of spectacular daytime and evening shows and four period villages.
Visiting with a group of like-minded travel bloggers was an amazing experience, but what I really wanted to do was visit with my family and see their reactions to the experience.
We flew in to Nantes and hired a car for the hour long journey to the park and the reaction of the kids when we first saw our hotel – La Citadelle, was priceless – "We are staying in an actual castle, Mum!!"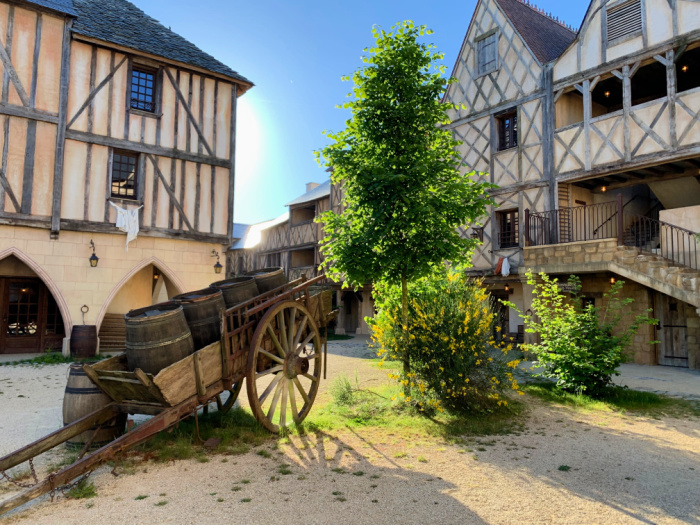 La Citadelle is the newest hotel at Puy Du Fou and gives you all the thrill of staying in a castle fortress, combined with all the mod cons of staying in a modern hotel.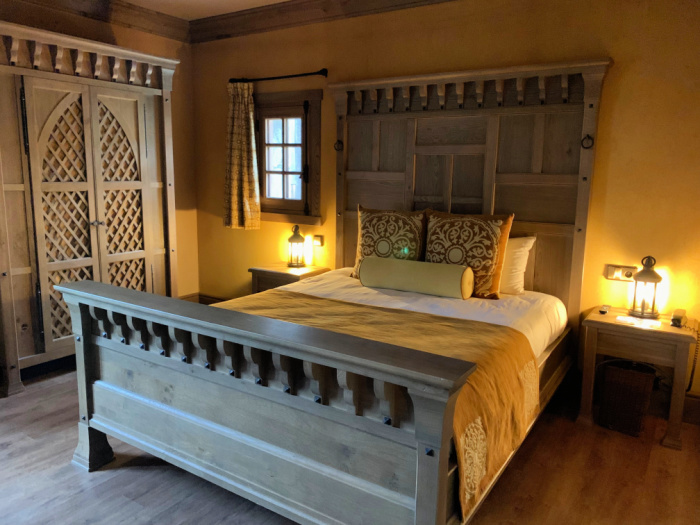 The room was perfectly staged to imitate staying in a medieval castle, however was fully air conditioned, had a widescreen TV, kids bunk beds, wifi and a separate bathroom and toilet.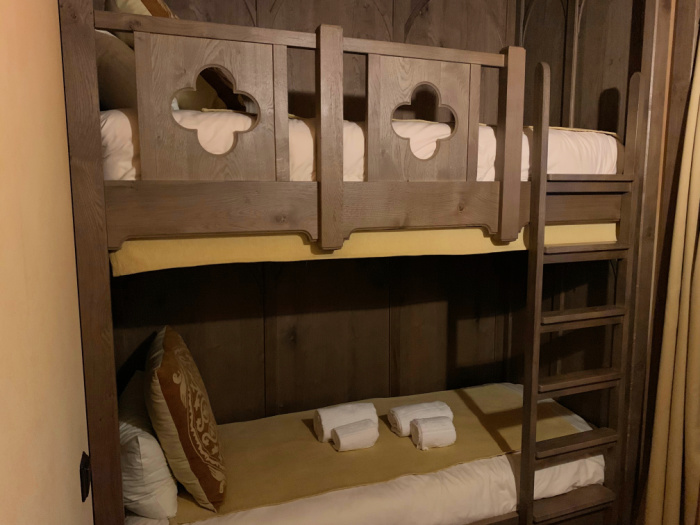 Visiting Puy Du Fou with Kids
As you can imagine, visiting Puy Du Fou with kids in tow is a very different experience to my first visit, but was equally enjoyable and I loved seeing their reactions to the shows.
Outdoor Shows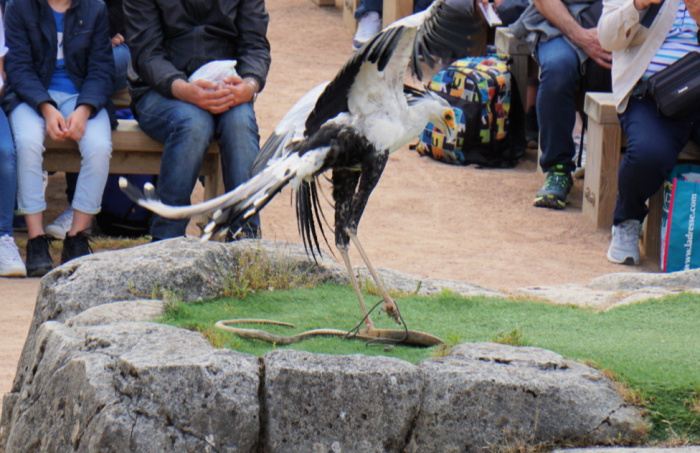 Le Bal des Oiseaux Fantômes
Our first show was Le Bal des Oiseaux Fantômes (The Ghost Birds Ball) and the kids were all transfixed as the birds swooped, dived and glided over our heads.
The story tells of Aliénor, who wakes up in the ruins of an old château. Her memories make the birds appear from all corners of the arena, even the sky, via the means of a clever balloon!!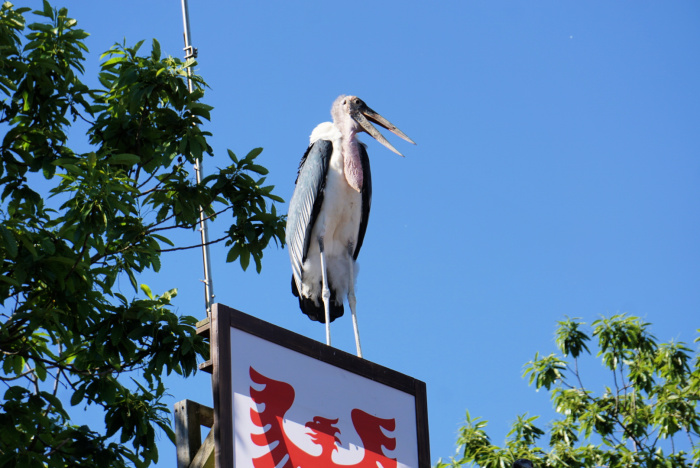 We all appreciated the slight breeze from the birds as they flew over our heads too.
Les Vikings
Our second show was Les Vikings, an action packed tale of the invasion of the Vikings.
Starting with a wedding at Fort de l'An Mil, the peace is shattered by the appearance of the Viking longboats, in a very clever way!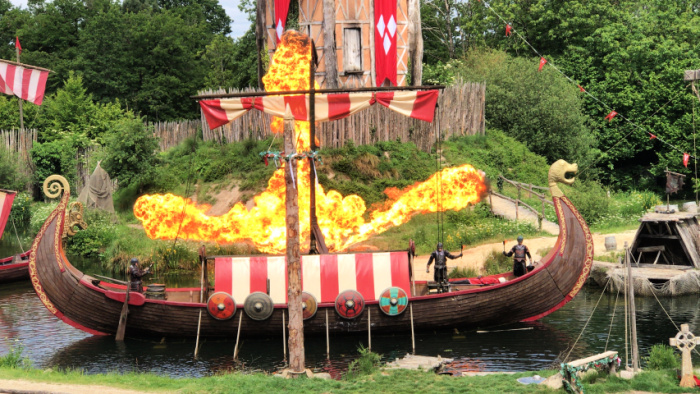 With animals, fire, fighting and a bit of magic thrown in for good measure, this is a show not to be missed.
Le Signe Du Triomphe
This was my favourite show from my first visit to Puy Du Fou and seeing it again didn't disappoint.
We were sat right next to the Gaul's and the fun started before the show even began as they whipped the audience into a frenzy with songs and chants against the Roman's on the opposite side of the Colosseum inspired stadium.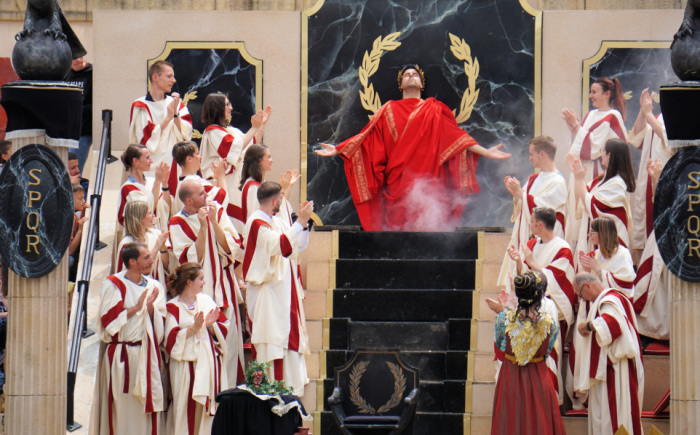 The atmosphere in the stadium was electric as the Gaulish prisoners fought to win the circus games in front of the Roman governor in a series of challenges including a rather bloody fight with Roman Gladiator champions, a chariot race and even the big cats made an appearance as they would have done in Roman times.
The kids adored being part of the Gaul's team and cheered along as they won each challenge and seeing the big cats appear was the icing on the cake.
This is the show with the most audience participation and you feel involved in the proceedings from beginning to end.
Le Secret de la Lance
The show starts with an introduction to Marguerite, a young shepherdess and the Knights of the castle who put on a brilliant display of spectacular horsemanship.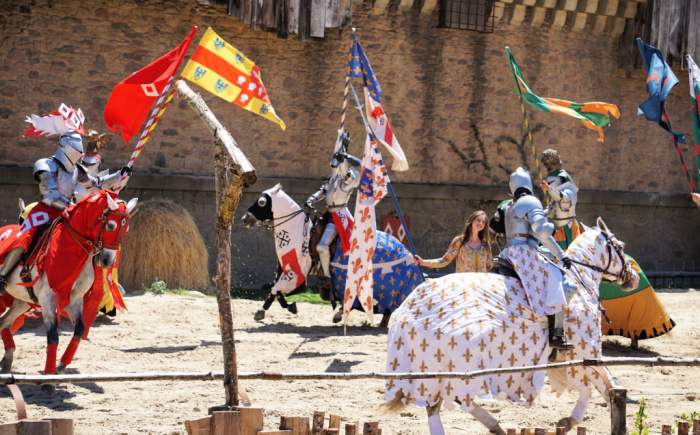 This spectacular medieval adventure that sees Marguerite left alone to defend a castle with the help of a mysterious lance with magical powers and was the one show where I watched the kids eyes widen and jaws drop in disbelief at what they were seeing.
This show has some spectacular stunts and jaw dropping scenery changes that quickly propelled it to the kids overall favourite show at Puy du Fou.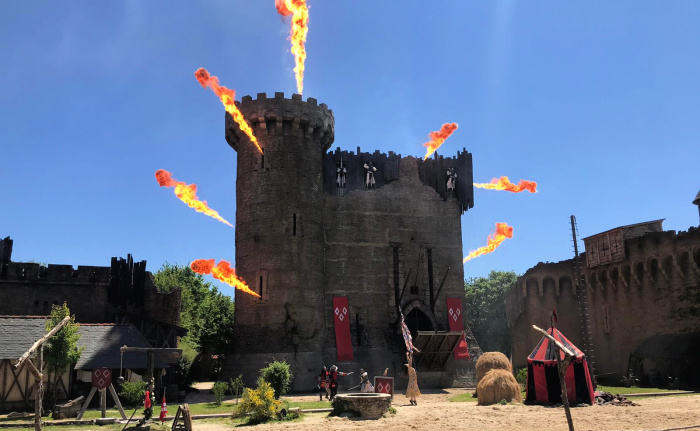 In fact, they are still asking how it was done and we just cannot answer them!!
Les Chevaliers de la Table Ronde
This adventure is the shortest show in the timetable at just over 15 minutes, but it is lots of fun.
In the show, Merlin puts Arthur's bravery to the test as he battles Morgana who tries to tempt him with her evil ways. Once he has beaten the curse of Excalibur, Arthur discovers the wonders of the enchanted lake!
Le Grande Carillion
Set in the 18th Century village, sixteen metres above the ground, the bell ringers twirl around and strike the 70 giant bells in time to the most famous tunes: a spectacular blend of music and choreography.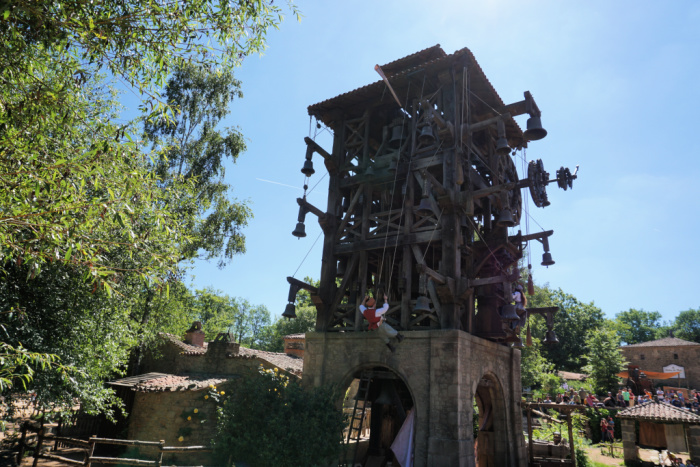 Le Bourg 1900
Le Bourg 1900 is somewhere where the kids can relax and explore. It is a large square which is filled with Victorian and Edwardian-style shops, a Bistro and the only ride in Puy Du Fou – a carousel to ride.
Le Ballet des Sapeurs
Le Bourg 1900 is also home its very own show – Le Ballet des Sapeurs which is performed by children from the Puy du Fou Academy.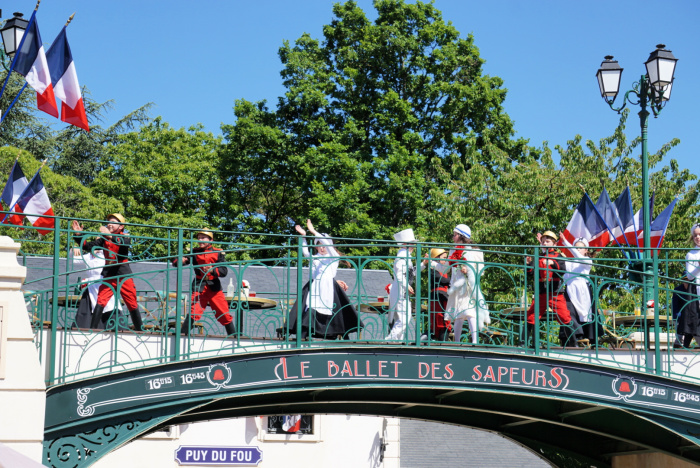 The one thing we did find during our visit, is that we needed to space the shows out to give kids the chance to relax and enjoy some play time, whether it be in the park or just exploring the themed villages.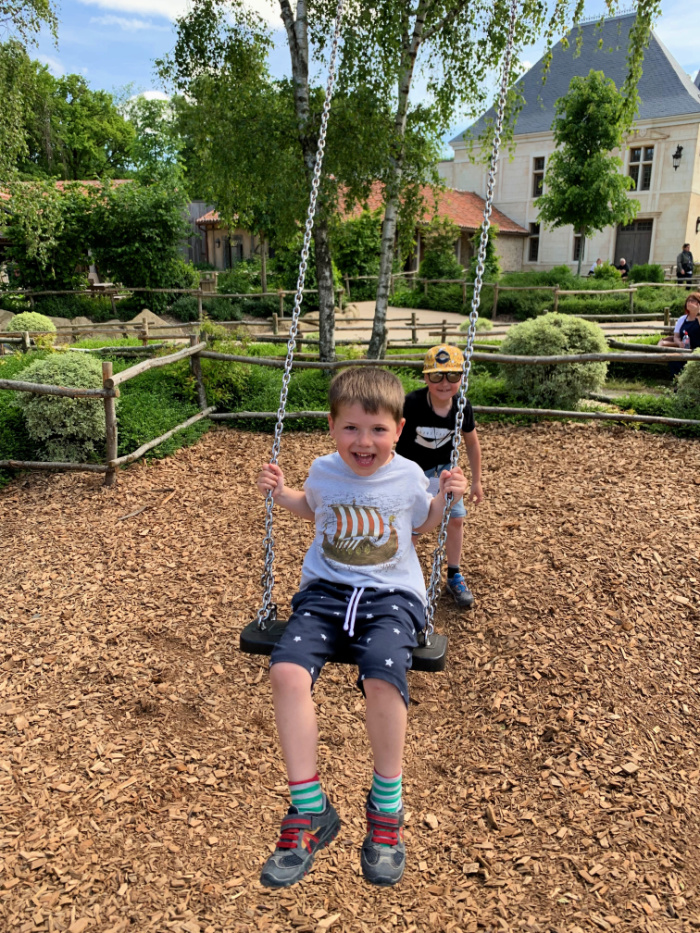 Le Monde Imaginaire de La Fontaine
A real children's paradise, this area is perfect for younger children as it is an interactive garden with talking trees, famous fables and lots of pathways to explore.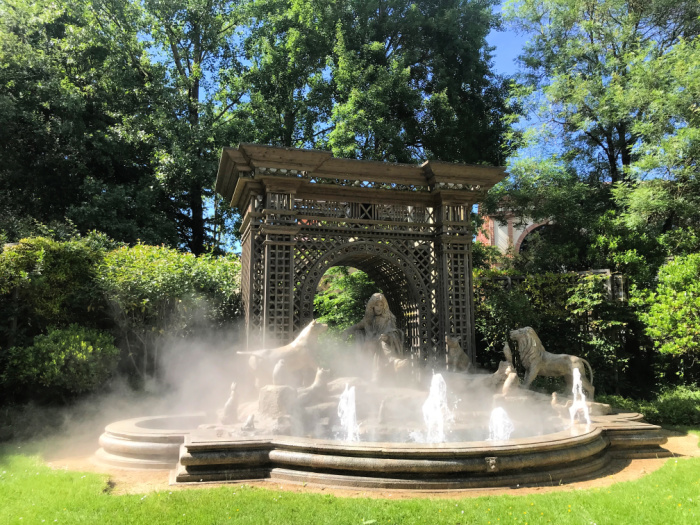 Les Orgues de Feu
Every evening on the old Puy du Fou lake, nymphs and sprites dance to the music of romantic musicians dressed in illuminated costumes in a fantastic symphony of fire and water.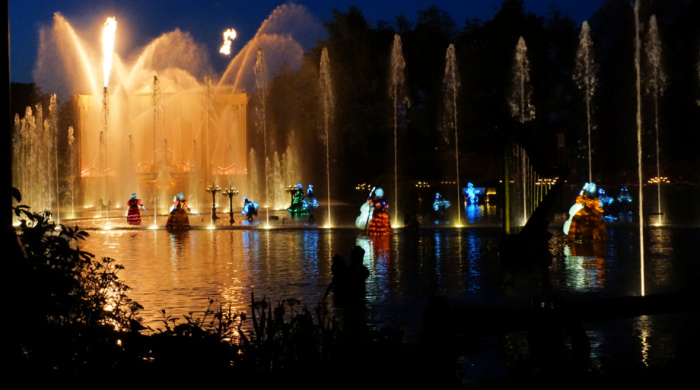 Be aware that this does start at 22.15, so may not be suitable for very small children.
Walk Through Shows
There are four walk through shows as Puy Du Fou and each one is brilliantly done and the kids loved them so much we did them all at least twice.
Les Amoureux de Verdun
This is the story of an heroic soldier from WW1, told through love letters between the soldier and his fiancée set in the snowy trenches in the middle of winter 1916.
This one is not recommended for young children as you walk through trenches staged as they would have looked during the war, complete with gunfire and explosion sounds as you go – the floor even vibrates at one point and actors dressed as soldiers walk through, shouting orders.
This was Isaac's favourite walk through, as it really brought to life the history he is studying at school.
Le Premier Royaume
New for 2019, Le Premier Royaume is inspired by a pivotal period in the history of France.
You head back to the 5th Century and follow the destiny of Clovis, the famous king of the Franks as they battled against a declining Roman Empire.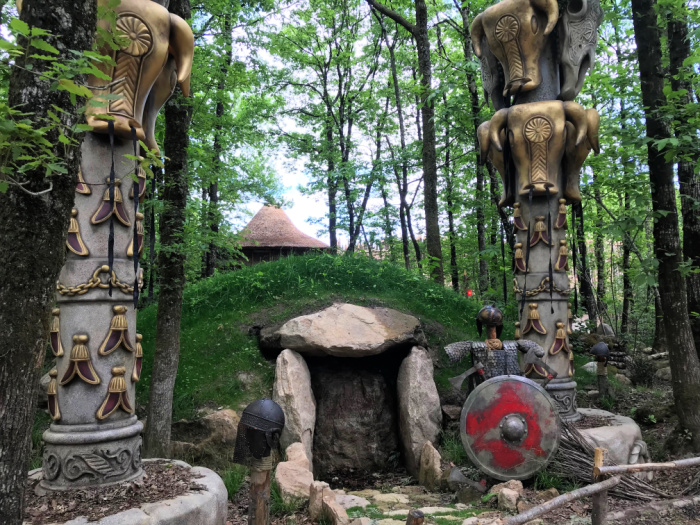 The walkthrough takes you through 14 different fantasy worlds, passing through rooms surrounded by Attila's Huns, through the bustling royal armoury and the Mérovingian palace until you reach the mythical legend-rich world of Valhalla where some of the uncertainties of this troubled period start to unravel.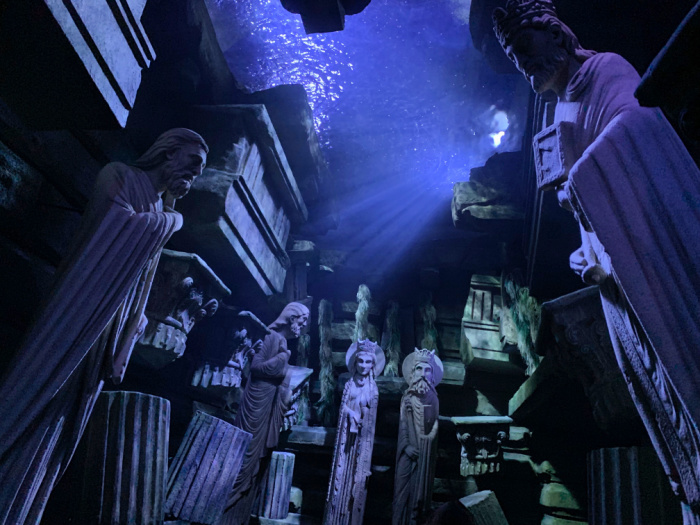 It is truly spectacular and has to be seen to be believed!
Le Mystère de La Pérouse
La Pérouse was a French Naval officer and explorer whose expedition vanished in Oceania.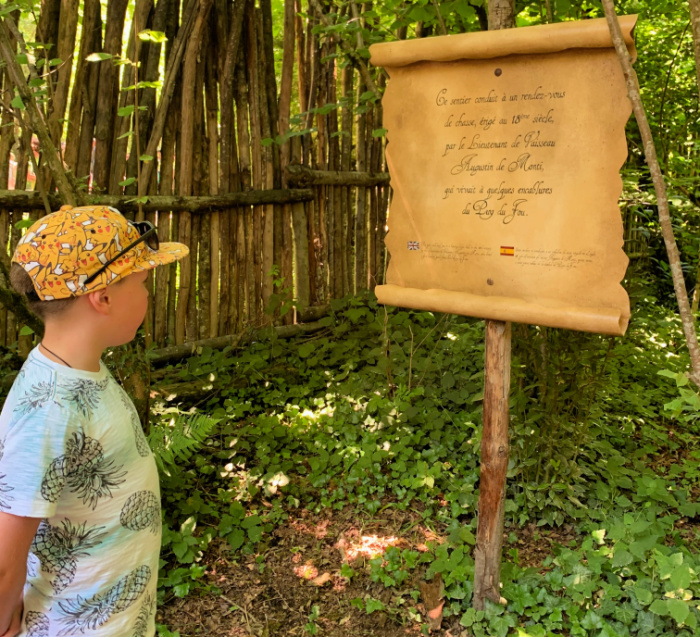 On board the ship, you get a real sense of what life would have been like on board, with life-like rolling seas and walls that move and make you feel as if you are really at sea. A mix of live actors, explorers treasure and animatronic figures brought the ship to life before we had to endure a formidable storm and escape the watery shipwreck.
La Renaissance du Château
The castle at Castle of Puy du Fou takes you on a journey through its history with paintings that talk to you, sculptures that move and ghosts that are still dancing.
Indoor Shows
If it gets too hot, or is raining, there are a couple of indoor shows to see too and we really appreciated the air conditioning after a hot day in the park.
Le Dernier Panache
Le Dernier Panache, is an award winning show which follows the story of a French naval officer who returns home a hero from the American War of Independence to see his life change dramatically.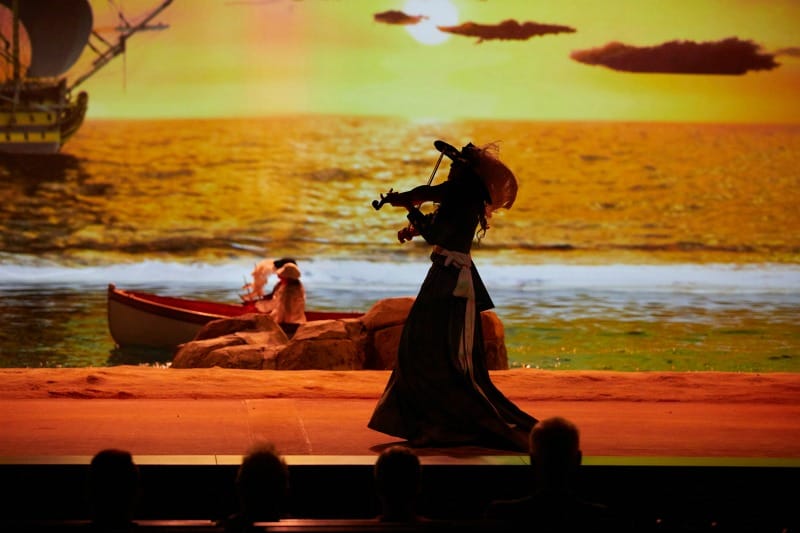 No camera's are allowed, but I can only describe it as a breathtaking spectacle which involves the seating making a 360° rotation to a series of different stages which include the inside of a ship, a ball, the ruins of a church and even a beach.
Mousquetaire de Richelieu
Like Le Signe Du Triomphe, this show is one that starts with entertainment before the main show, with a mime artist and an unsuspecting audience member entertaining the crowd.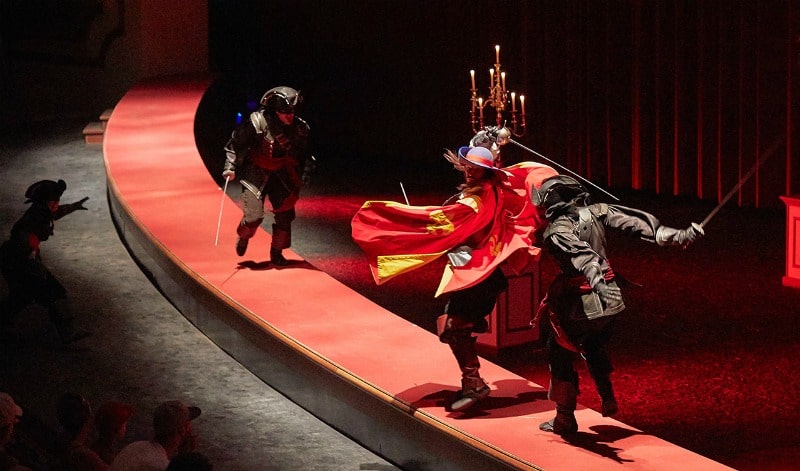 The main show starts with some spectacular stunts and sword fights which then moves on to celebrate the Kings wedding, with flamenco dancing and capering horses.
Le Cafe de La Madelon
This is an evening meal with a difference, where they whisk you back to 1914, to attend the wedding meal of La Madelon.
This show is not translated, however, with singing, dancing, magic and mayhem, this is a slapstick comedy that we all enjoyed.
The only issue we had was that the kids did not like the food and it is a set menu, so we could not order anything else for them:
Salmon medallions with garnish
Roast chicken, rosti potatoes, provençale tomato
Wedding centrepiece, Choux with Chantilly cream
The meal costs €26.90 per head in advance or €29.90 on the night and includes all food and drink.
10 Top Tips on visiting Puy Du Fou with kids
1. Download the Puy Du Fou app, available on App Store and Google Play. The show times change every day and the app is the best way of seeing when the shows are on, making a timetable and getting a translation of the show in your language.
2. Take Headphones and a headphone splitter so you can listen to a translation of the shows using the app.
3. Don't try and rush from show to show, leave a bit of time between shows to explore and have some play time. There is an adventure play park near the lake, as well as quieter walks where you can get away from the crowds if you need to and see the animals.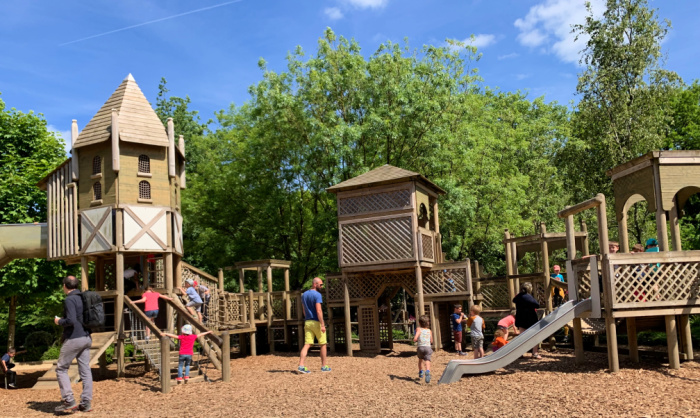 4. Take hats, sunglasses and plenty of sun cream. Most of the shows are based outside and there is no shade from the sun.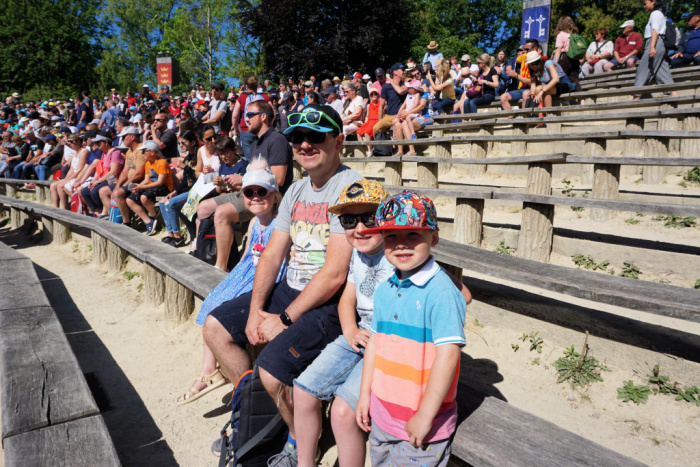 5. It gets very busy, especially in the half an hour before the show starts and each show holds around 2,000+ people. Emotion passes (€15 pp) offer you reserved seats and priority access to the 7 top shows, so you can miss most of the crowd. I would wait to most of the people have left the show before trying to make your exit.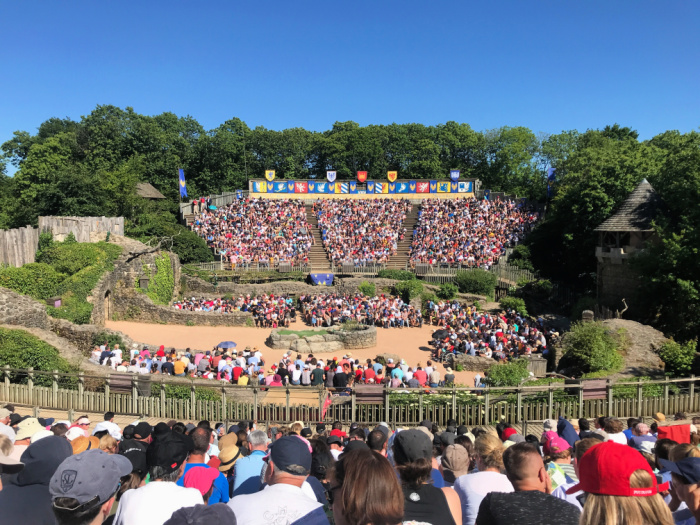 6. Book your restaurant in advance and save up to €3 per meal by pre-booking your table in one of Puy du Fou's themed restaurants. We like Le Bistrot in Le Bourg and La Mijoterie du Roy Henry as both had good kids menu's.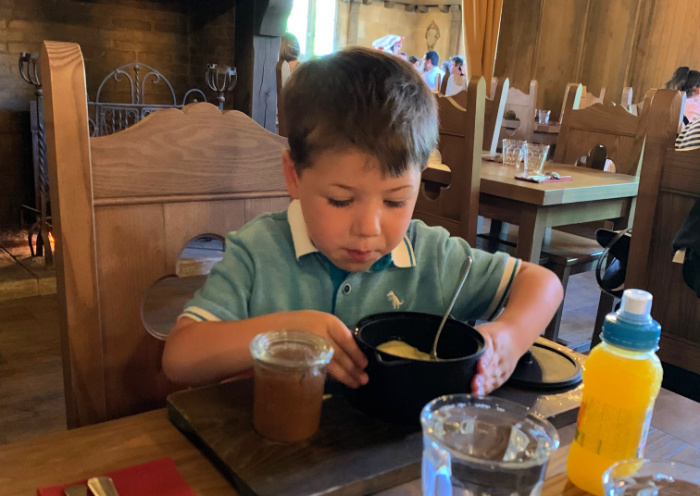 7. Stay in one of the themed hotels from €61pp per night. You really need two days in the park to experience is all. Check out my review of Les Iles de Clovis here.
8. Take warmer clothes for the evening shows, it gets quite chilly once the sun goes down.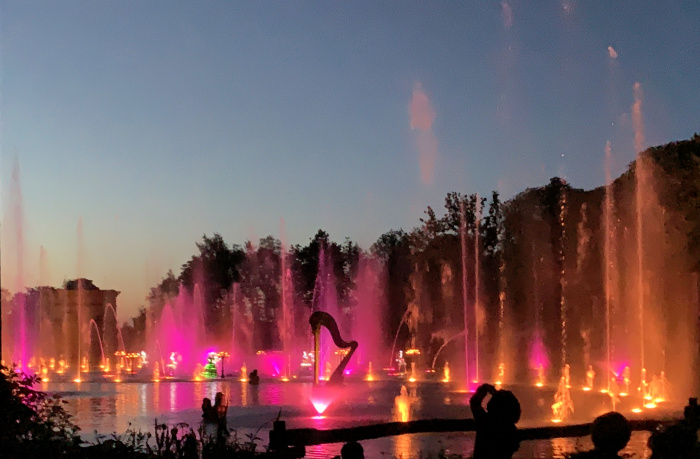 9. If attending an evening show such as Les Orgues de Feu or La Cinescenie, take a torch as the pathways, although lit, are still very dark.
10. Take plenty of drinks and snacks. We stocked up on fruit and topped up our water bottles at breakfast in the hotel to save money in the park, although there are plenty of fast food outlets available.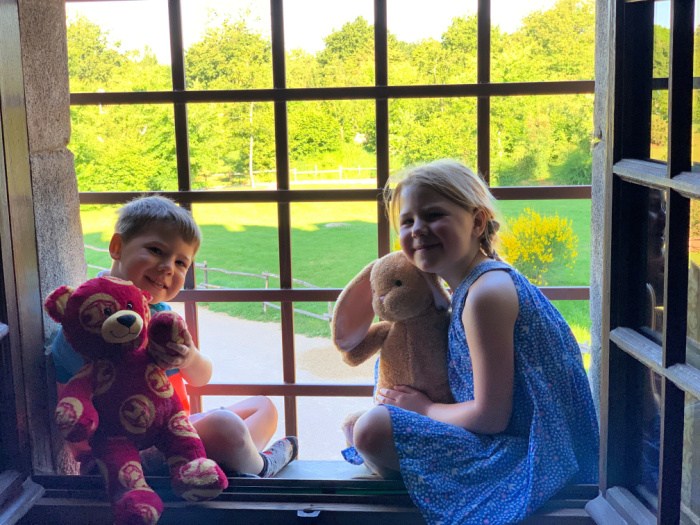 Would you like to visit Puy du Fou?