Back in November our old fridge freezer decided to stop working on us, which left us searching for the perfect fridge freezer to replace it.
Our old fridge freezer was large, but not quite an American sized Fridge Freezer and I have often struggled to fit everything in it that I needed to, so this time I started looking for a larger one.
We finally plumped for the BEKO American style fridge freezer ASD241 which comes with BEKO's NeoFrost™ technology, which provides 2x faster cooling, fresher food and a freezer you won't need to defrost (always a winner).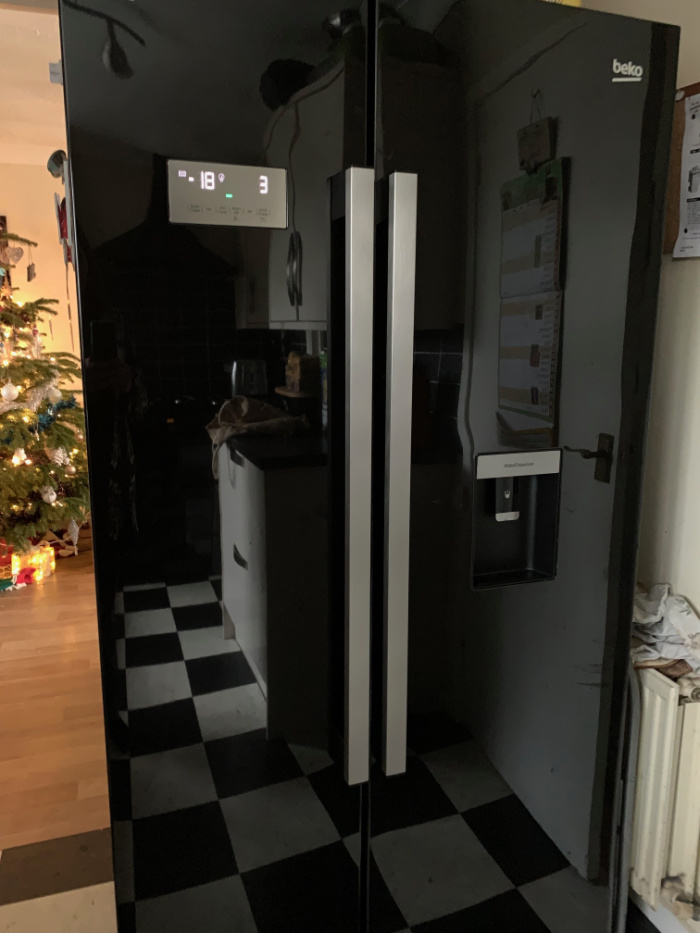 How NeoFrost™ technology works, is that it offers two separate cooling systems to maintain optimal humidity and freshness, faster cooling, and a dry environment in the freezer so ice won't build up. Having two cooling systems also means odours won't transfer between the fridge and freezer, keeping our food tasting and smelling fresh.
One of my favourite features of this fridge freezer is the non-plumbed water dispenser that gives you the convenience of chilled water on tap without the need to plumb anything in by way of a clever slim, easy-to-fill 2-litre tank that sits neatly on the fridge door without taking away from the space you need to store your groceries. It is great for topping the kids water bottles up before school.
If they want ice in them too – no problem, there are two ice cube trays in the freezer which empty into the trays beneath with an easy twist. No bashing or squeezing the trays to empty them!!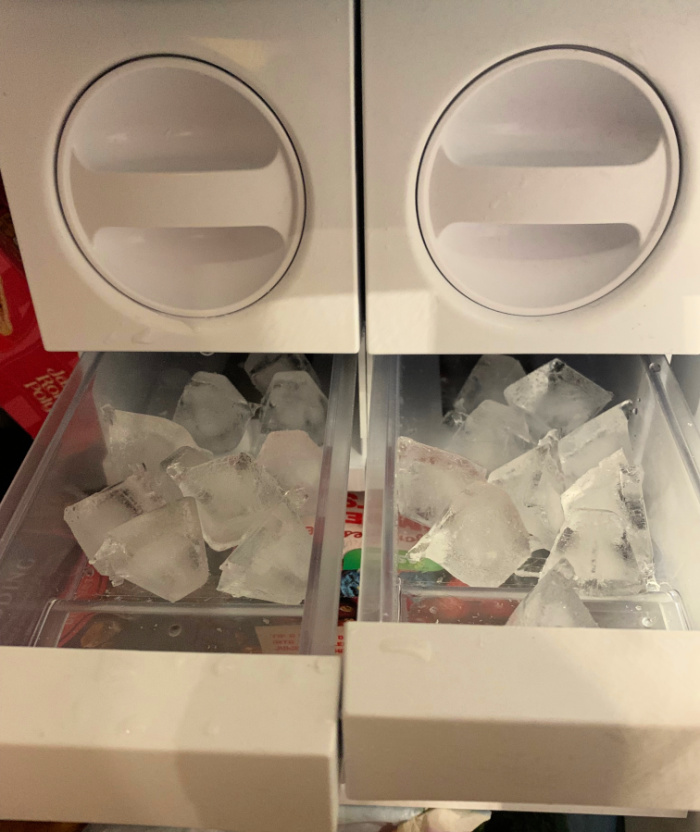 There are compartments to keep everything separated and kept at the correct temperature which helps them last longer, including dairy, meat, fish, salad and vegetables.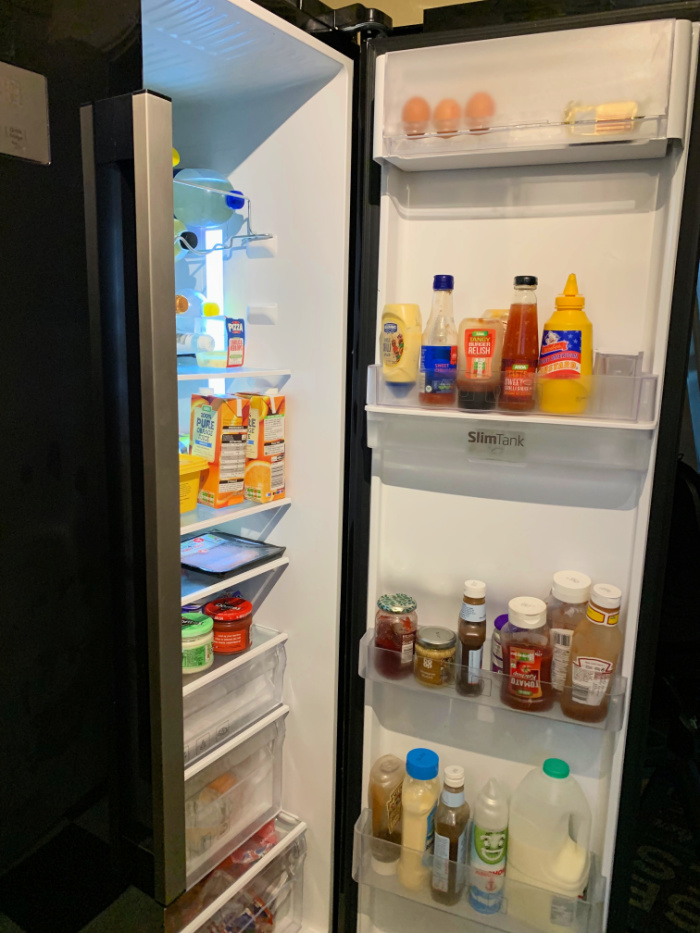 Another feature I love is the cool LED lighting strip that runs down the sides of the fridge and freezer, making it easy to find just what you are looking for.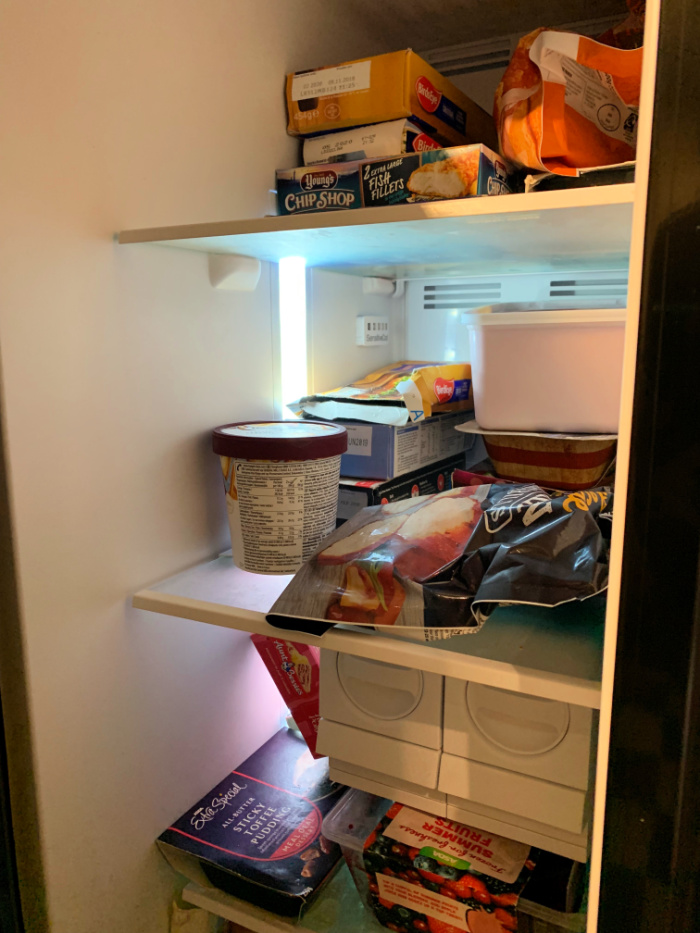 For added peace of mind, the fridge freezer also comes with an anti-bacterial door seal, designed to prevent bacteria from forming and entering the fridge, a flame retardant back which exceeds UK and European safety standards and a handy door alarm to let you know if you have accidentally left the door open (this is a great feature when you have kids who like to help themselves to an ice lolly and forget to shut the door, like mine).
The control panel also allows you set the fridge into different settings, including fast freeze, fast fridge, eco and holiday mode, which is perfect for when you're on holiday or away from home for a longer period of time, the holiday mode will keep your appliance running in the most energy efficient way, saving you money on your energy bills.
Getting the fridge freezer did come with a couple of issues – it was too large to fit through the front door so the installers had to take the doors off and then forgot to reconnect the control panel before they left, so if you get one, make sure they do that before they leave. It turned out to be a simple cable above the left door hinge, but I had to wait a week for an engineer to come out and fix it.
The BEKO ASD241 is available in silver and black and has an RRP of £799 and is available at Argos, Appliances Direct and Very. It is currently on sale at £569.99 in Very, if you are quick and don't forget to use Top Cashback for an extra 14.9% cashback.
Disclaimer: We were sent the BEKO ASD241 to review. All thoughts and opinions are our own.