Last year Eliza, like many girls her age, was heavily into the film Frozen and had requested a Frozen themed party. She had such an amazing time that, almost from the end of her 4th birthday, she wanted a Princess Party again but I have to admit that I thought she would change her mind.
In October I contacted the company that I had used last year to request their services again, but sadly they were only doing Charity events, however the lady who had played the character of Anna last year had set up her own company.
The Imaginarium, based in Dorset, promised to help bring magic to everyday experiences; have a natural talent for parties and event planning, turning your special day into something extraordinary! Having worked with Professor Ellie Imagination a couple of times I was confident that she would ensure that Eliza and her friends has the best time and I was not wrong.
I hired our local community centre which has a main hall and a smaller room with a small kitchenette which is perfect for setting up the tables for food. Having had two parties here last year we were on a roll with setting up and it only took us half an hour, although I did make all the food earlier that morning and Nanny brought along some scrummy cakes.
The Princesses arrived 15 minutes before the party was due to start and we hid them in a large storage cupboard so as not to spoil the surprise (sorry Ladies). Eliza had asked for Ariel, Cinderella or Snow White and I was not one to disappoint. The tables were set up with paper plates, cups and serviettes of all three princesses from Party Bags and Supplies, the decorations were recycled from Eliza's party last year and the amazing cake which picked out Snow White and Ariel's colours was made by Helen from Scrumptilicious Cakes in Poole.
Kian was DJ for the day and had music playing whilst the kids arrived, who were oblivious to what was in store. Abbey was the first to get her face painted which soon encouraged the younger ones to follow suit.
It was then time for the Princesses to join in the fun with Ariel arriving first to the song 'Part of your World' where she led a Sing-a-Long and some bubble fun before introducing Snow White who sang 'With a Smile and a Song' live! Cinderella was then introduced, arriving with 'Bibbidi Bobbidy Boo' and talks about her love of dancing before selecting a "willing" participant to teach the waltz. I have to admit I was hoping Hubby would be picked but my niece had other ideas and picked a very reluctant Mark to dance instead.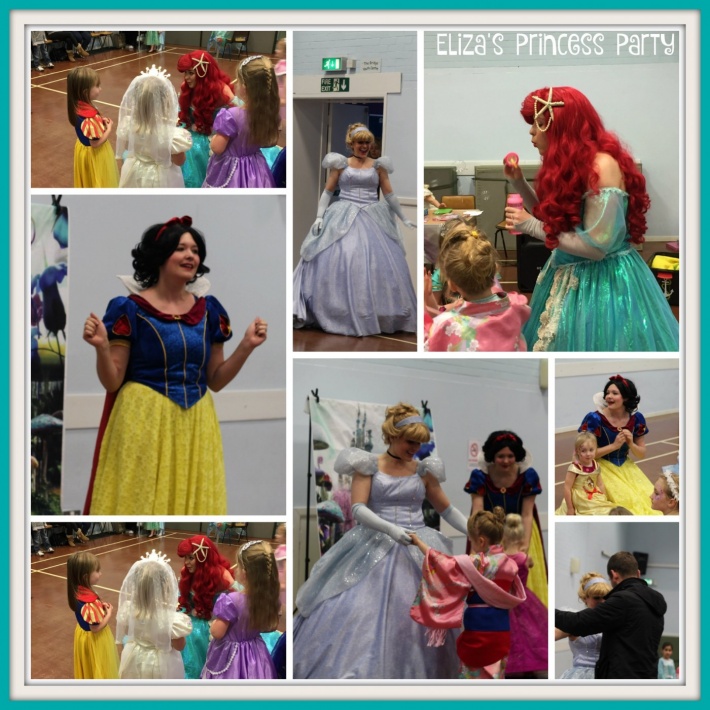 The Princesses made everyone feel welcome and I think some of the mum's in the room were as excited to see them as the kids were and even commented on how authentic they looked. I think the kids would have been happy just chatting to the Princesses but there were games to play and the party host got things started with pass the parcel, whilst some children chose to have their faces painted or glitter tattoos.
Parachute Games followed with Bubble Bounce, Making Waves & Deep Sea Divers and then the best game of Musical Statues I have ever played as instead of traditional statues they had to pose as their favourite Dwarf from Snow White and a very raucous game of the Bean Game!
It was then time for the food break and the kids got stuck into traditional party food which included tiara shaped sandwiches, sausage rolls, pizza, fruit and veg and of course crisps and cakes followed by the cake presentation.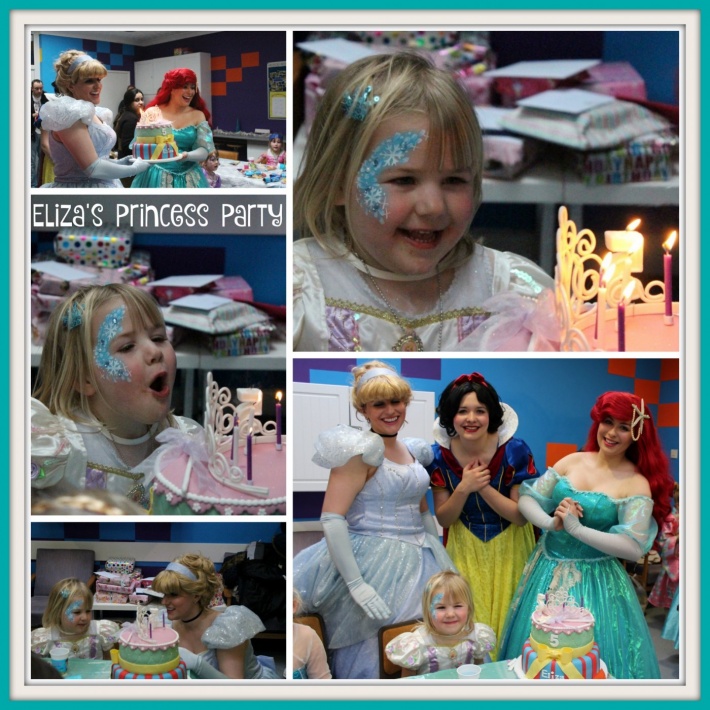 We finished the party with storytime, followed by a treasure hunt and finally the opportunity to take photos, a certificate presentation for each child and the final Princess Goodbyes.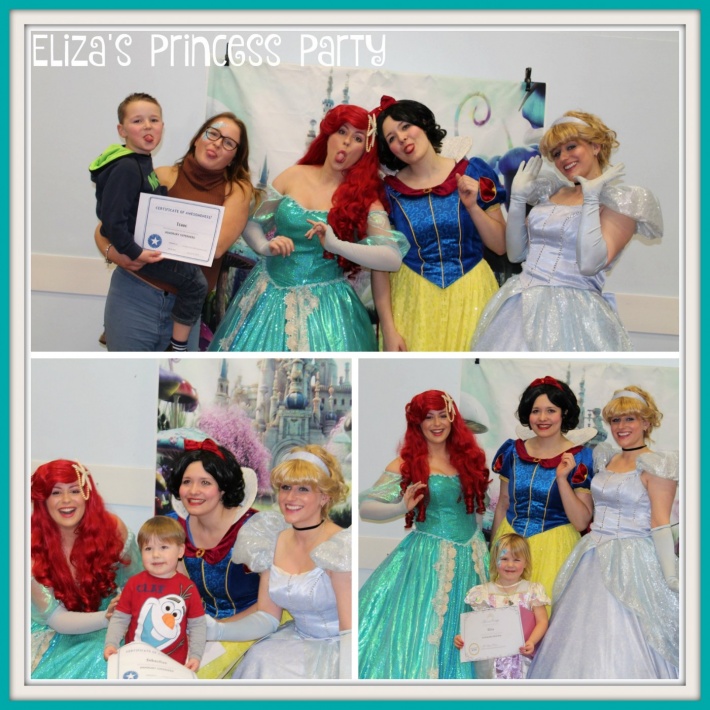 I have to admit I didn't want to cut into that beautiful cake, but it had to be eaten so each child had a slice of cake in their handmade fabric party bags which were made by my friend Joanne. The bags were a gift in themselves but I also added a princess pencil (Pirates for the boys), bubbles and a small bag of sweets.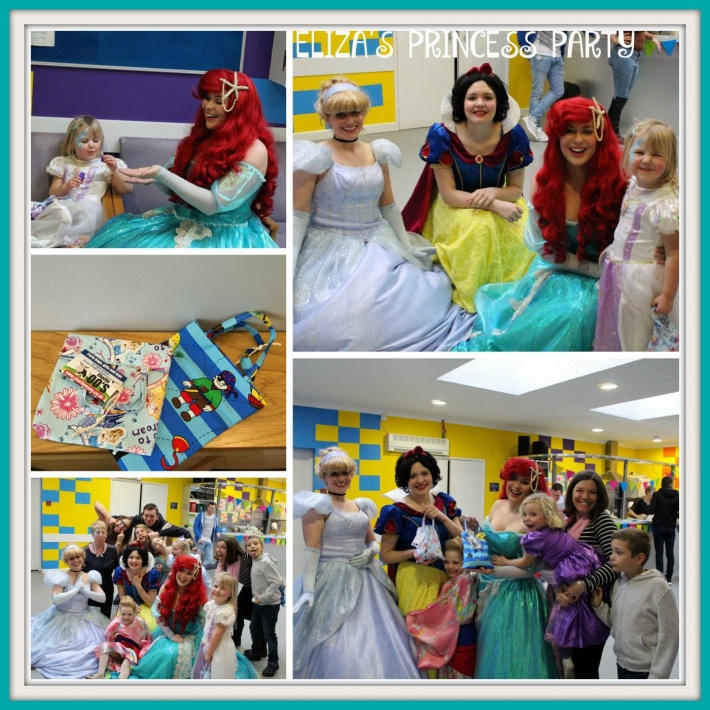 I have to say Professor Ellie Imagination and her team were fantastic from beginning to end. They led and joined in the party games, gently encouraged even the shy children to join in and took time to speak to each and every child at the party and stayed after all the guests had gone and spent a little more time with Eliza before they had to leave.
If you are looking for children's party entertainers in Dorset then I can highly recommend The Imaginarium. They cater for both boys and girls and are introducing science parties very soon.