I am a big fan of Hotter Shoes, ever since I reviewed my first pair of Mist trainers back in 2013,   Back in November 2014 I went to my first Hotter Shoes event in Bournemouth and got to meet the Mel and the PR team and learn all about the brand.
Hotter have been manufacturing stylish comfortable footwear for over 50 years, starting out with slippers and continuing into the mass shoe market promising to make shoes as comfortable as slippers!!  They are now the UK's biggest shoe maker with a fabulous eye for colour and design and a passion for creating beautiful shoes that feel wonderful to wear!
All their shoes feature the comfort concept with eye catching shoe styles which have hidden comfort throughout.  Before I owned my first pair of Hotter shoes I had always assumed that they were the kind of shoe my granny would wear, however, although there are shoes that the older generation would love, they have some up to the minute styles and colours that even my 22 year old daughter wants to add to her wardrobe – all with pillows of cushioning, air-filled bubble soles and wiggle room for toes to explore!
I was invited to another Hotter event but this time in their Winchester store the night before BlogOn. I have to admit that I was shattered when I arrived as I had been sorting goody bags and lugging furniture around all day, but they made us all very welcome and I got to relax with a small glass of bubbly before looking at all their new ranges of shoes.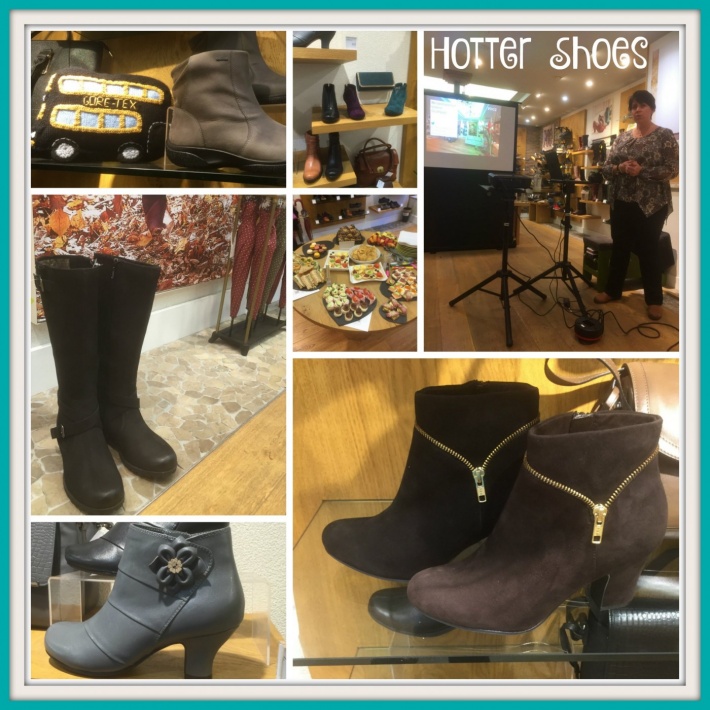 I fell in love with 3/4 of the shop and as always the staff were brilliant. I have arthritis in my feet and my toes tend to swell, so I tend to wear a size 6 instead of a 5, but because of the wiggle room in the toes and the fit of the shoes I am a 5 or 5.5 in Hotter shoes. Where Hotter staff excel is their customer service and they were more than happy to bring out each size and style I wanted to try and I ended up plumping for the Belle boots.
The boots have a super soft nubuck leather outer, adjustable calf fitting which is perfect for someone with skinny legs like me, extra cushioning, an extra grip sole and full length inside zip for easy wear. It was like pulling on slippers the first time I put them on and I wore them all day at Blog On the next day and stayed comfortable all day.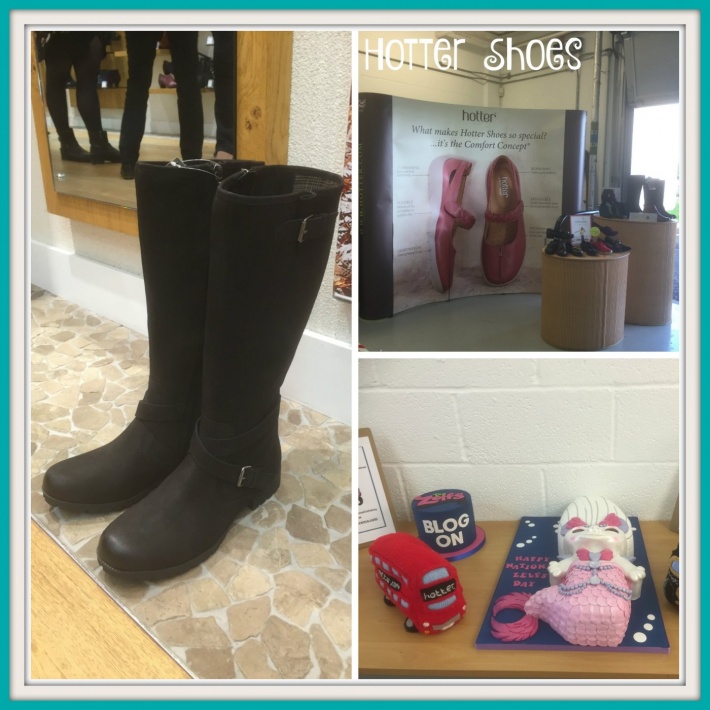 The Hotter Shoes ladies Mel and Jenni also displayed at BlogOn Win and impressed a whole room of bloggers with their stylish and comfortable shoes and their gorgeous handbags. Abbey has got her eye on the Michelle heels for when she collects her Duke of Edinburgh Gold Award in December and the Briony Riding Boots for everyday wear so we are going to take advantage of their 3 for 2 deal that is running at the end of the month.
I also have a fabulous deal for my readers which expires on 24th December 2015 –PNDTEN The code will entitle readers to 10% off and free p&p on their first order with Hotter.  (Terms and conditions: 10% off plus FREE delivery is for first orders only. You are entitled to 10% off the total order value of any full priced items in the Hotter range (excluding shoe care products) plus FREE delivery.  This offer cannot be used in conjunction with any other promotional offer or on Sale or Factory Clearance items and gift vouchers.)