Last weekend we were invited to Milestones Museum to have a look around and see what it offered.
Milestones Museum is a living history museum with collections of industrial and everyday life, set in Basingstoke, Hampshire and their current exhibition is a soldier's journey home from war which sees visitors travel back in time with Tom and Emily to the streets of wartime Hampshire to mark the centenary of the First World War.
Hubby and Kian both love wartime history and Kian is studying it at school for his GCSE so I knew they would enjoy it, but the question was, would Isaac and Eliza?
As we entered the museum, you get to look through the glass balcony onto the streets below and the little ones couldn't wait to get downstairs to look around.
Isaac and Eliza were both given their own war diary to complete which was filled with child friendly facts, questions to find the answers to and problems to solve.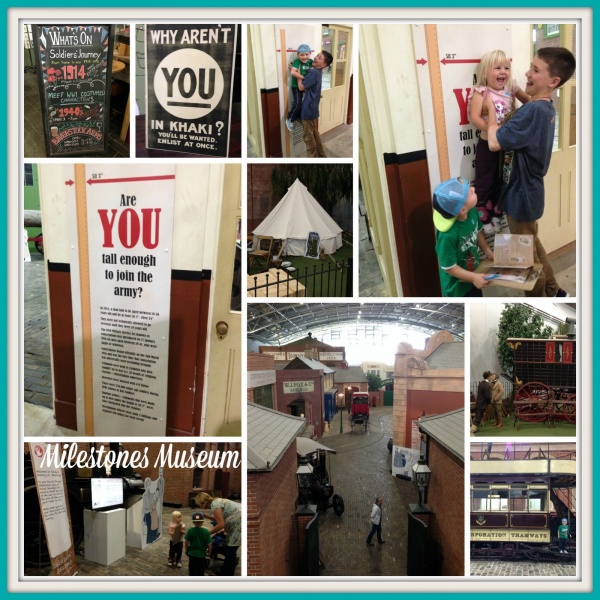 The sign of a good museum is one that engages with the children and this one does it brilliantly as they had to help them solve the mystery of the German spy, make friends with a war horse and meet soldiers from across the world.
One of their favourite rooms was the old school house and there was a particularly disruptive man child sat at the back!  Once they had finished playing it was time to colour in and make their own Union Jack flags.

Isaac was full of questions as we went around the exhibition and it was lovely to see Kian helping him find the answer or explaining what was going on in the sets.
We found a real working pub, but the kids were more interested in the sweet shop.  At the entrance I had purchased them an old penny each (an extra 70p per person), which they received alongside a ration book, which they got to spend at the sweetshop.  I wish I had got one for hubby and I too as the sweets looked delicious!

The little ones had finished their wartime diary and solved the spy mystery by this point, so it was time to see what else the museum had to offer.
The museum also features displays of equipment used through the last century and the hairdressing equipment caused giggles as it looked more like something for torture than something for beauty!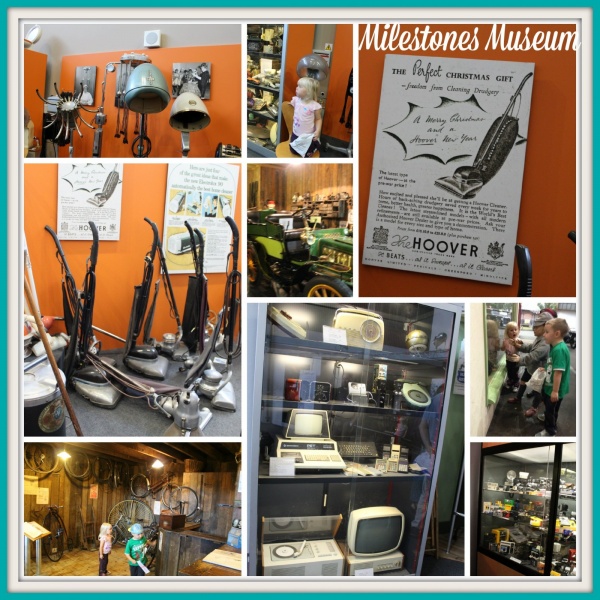 If you have an interest in cars, there were various displays of old motor vehicles and even stream engines on display too, some which you could climb aboard and others just to look at.
At the very end of the exhibition are lots of old fashioned penny slot games to try.  You can buy old pennies from various machines dotted around and then take a challenge.  Kian was very good at the grabber ones, winning more sweets for the little ones!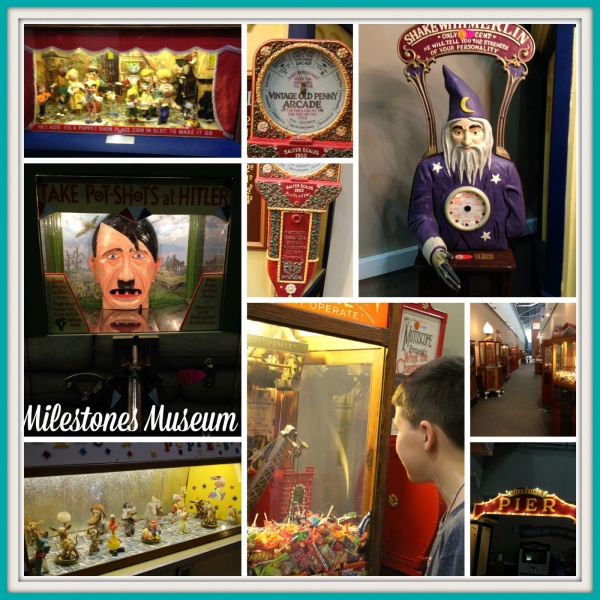 We spent a good three hours exploring the museum and probably could have spent another half an hour in the shop as it was full to bursting with fabulous old style gifts and homewears.
A family ticket for up to 2 adults and 3 children is £26.75 and would make the perfect half term rainy day, day out!
Disclaimer:  My family were provided free entry to Milestones Museum for the purpose of a review.  All opinions are our own.