No, I haven't taken my blog to a whole new level and let go of my family values – we genuinely went Knob throwing at the weekend.
A Dorset Knob is a unique savoury biscuit which has been made by the Moores family since 1880. Each biscuit is individually moulded by hand and has three separate bakings lasting a total of four hours. The whole process taking eight to ten hours!
It actually seems a shame that these Knobs are subjected to events such as Pin the Knob on the Cerne Abbas Giant, Knob Darts, Knob Archery and of course the internationally renowned Knob Throwing, but boy was it great fun!
The Dorset Knob Throwing Festival is held in Cattistock, Dorset which is situated about half way between Dorchester and Yeovil.  It was a picturesque drive through rural Dorset to get there and despite arriving early, the car park was busy already.  As soon as we got out of the car we were giggling like naughty school children at the innuendo filled tannoy announcements.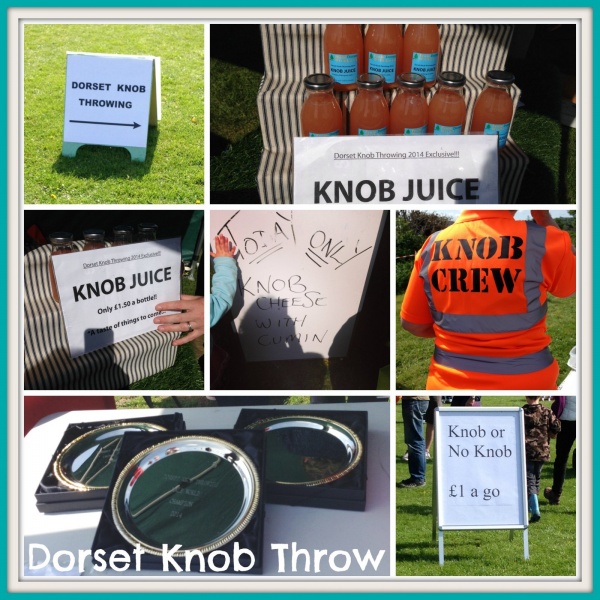 Everywhere you looked there were amusing signs, with lots of stalls selling local produce.  The Knob Juice by From Dorset with Love is actually Rhubarb, Apple & Ginger and tastes amazing.  The Knob cheese with cumin was rather yummy too and boy do they take this competition seriously, with some rather snazzy trophies to be won!
It was very much a local village fete only on a larger scale.  There was a band playing modern classics, country dancing and fire service vehicles to clamber aboard and set off the sirens.
The kids were itching to get started on some of the challenges and the first one we tried was Putt the Knob.  All the games cost £1 for 3 knobs which all goes towards local charities.  Isaac scored just 5 points but Eliza went top of the leader-board straight away with an impressive 20!  Next up was Knob Darts and this time Isaac beat Eliza with a score of 38 to her 30.
Then we tried the Knob throwing itself.
It looks easy………..it's not!  First of all you have to throw under-hand and the knobs are so unbelievably light they barely travel any distance.  We definitely didn't set the world on fire with our attempts, but it was fun!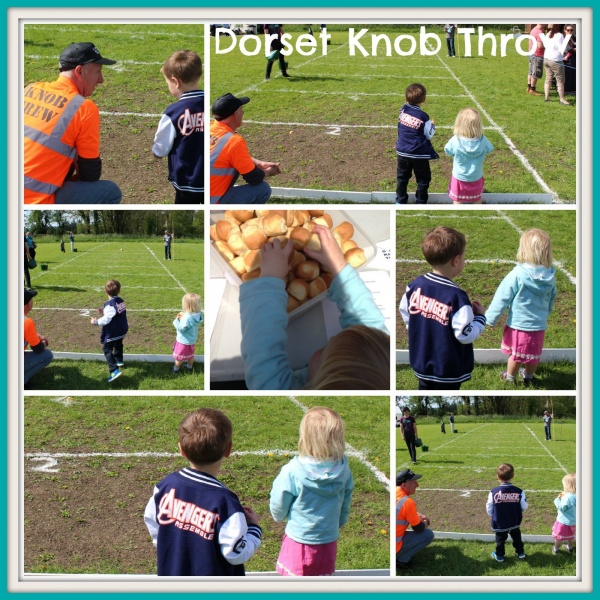 I did try to persuade Isaac to take part in the Knob and Spoon race but he didn't want to so we took a break and had a look around all the stalls.  We stopped to watch a rather amusing attempt to pin the knob on the Cerne Abbas Giant and then guess the weight of the large knob.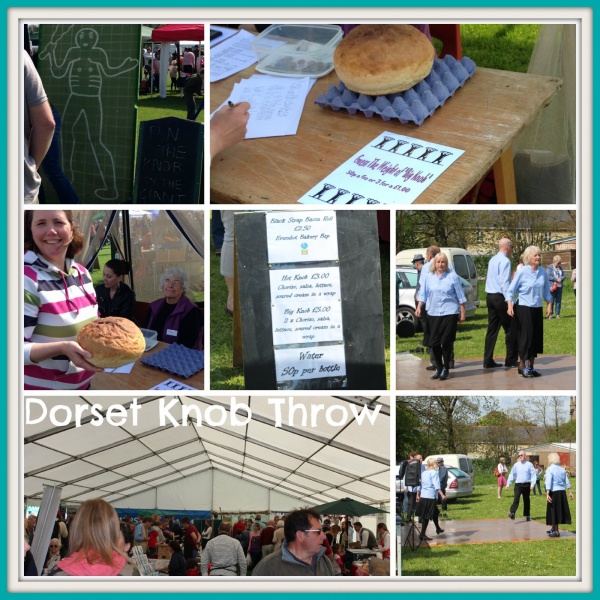 Many of the stalls were giving away food tasters and I was disappointed that I didn't get to try some local wine as I was driving.  I did get to try a Dorset Knob with some blue cheese and it was delicious.
We then headed for the Knob Archery, which had caught Isaac's eye on the walk around.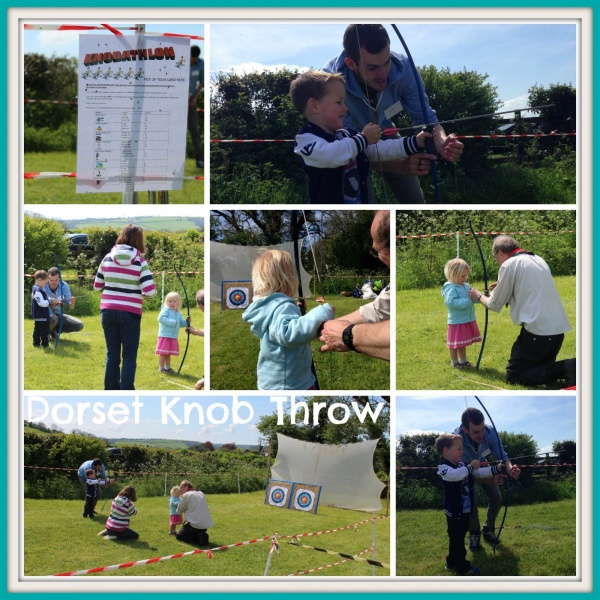 We were not very good at the Archery either, but we had fun trying.
By now our tummy's were rumbling so we stopped for some lunch and took in the atmosphere around us – apparently there were over 5,500 visitors to the event and it was certainly starting to feel busier although not over-crowded. People had bought picnic rugs and had spread themselves out over the grass to watch the games unfold.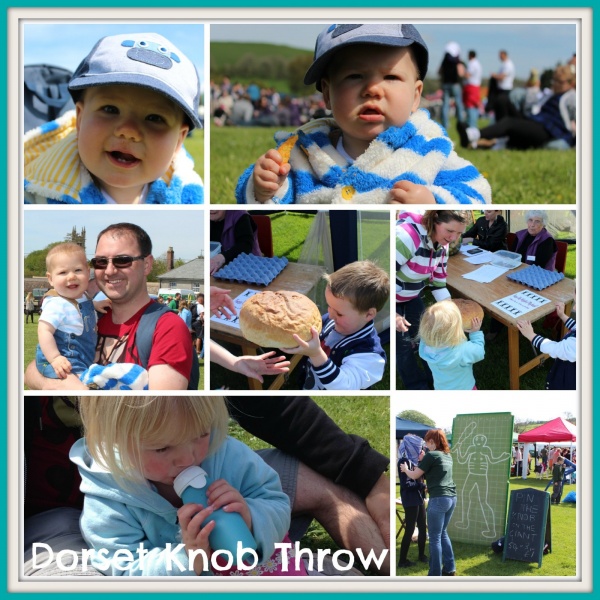 Costing just £5 to get in for 2 adults and 3 children it really was an inexpensive and fun day out.  We came home with some lovely Dorset produce to try and hubby just had to buy a t-shirt which he proudly modeled in the car park.  We will definitely be back next year!
See what Country Bumpkin Chic had to say about Dorset Knob Throw here.
Why not follow Dorset Knob Throw on Facebook and / or twitter so you don't miss out on all the fun next year!