I am quite confident about breastfeeding in public.
I have breastfeeding attire in my wardrobe ranging from dressed to tops and even the breast vest which enables me to wear my own tops and still breastfeed discreetly.
However, there are occasions where I do feel exposed, stared at and even uncomfortable.  I was even asked to leave a childs' party recently and feed Sebastian in the toilet.
Then I was offered the Snoob Scarf to review.
The website describes it as versatile, discreet and above all stylish.
Made from 100% cotton jersey it is super soft.  It comes in a large circle of material which you simply loop around your neck twice to be worn as a scarf.  I forgot my coat when I took Eliza ice skating and it was the perfect addition to my outfit to keep me warm.
Proof that the Snoob will outlast your breastfeeding days.
To use as a breastfeeding scarf you simply un-loop the scarf once and use the material to cover you and the baby as much or as little as you like.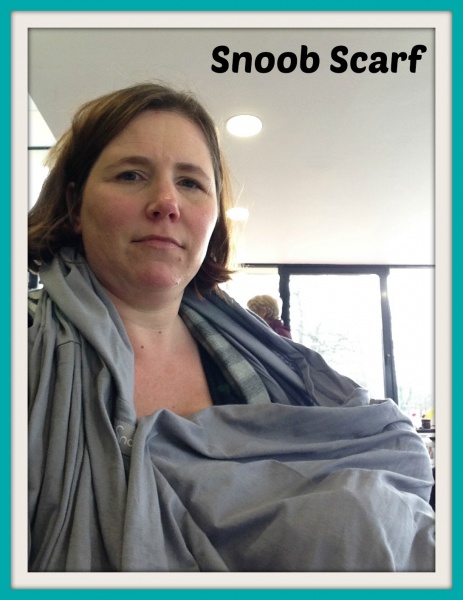 Sebastian is 8 months now and it covers him well.
He has a tendency to want to know what is going on around him, especially if its noisy like it was in the soft play centre, but I covered him up so he couldn't see what was going on and he snuggled in for a much needed snooze.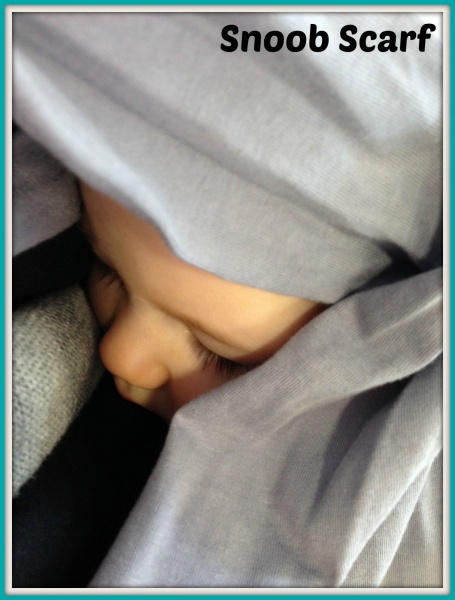 Because the snob scarf has plenty of material there is no need to move the scarf when swapping sides and your dignity is maintained.  You can even use it as a blanket if need be.
The other added bonus is that it hides that post baby tummy when worn as a scarf – always a bonus!
To Enter:
Fill in the Rafflecopter widget below to verify your entries
Entries can be via comment, Facebook, Twitter etc
Please read the rules below
Closing date:   31st March 2014
If there is no form hit refresh (f5) and it should appear
If it still not working check that your computer is running Javascript
You need to complete the mandatory entry first – Leave a comment**
Rafflecopter will tweet, like and follow on your behalf making it really easy to enter
Really want to win the prize? Come back every day for bonus entries via Twitter
Terms & Conditions can be found in the Rafflecopter form below
** Comments may not show immediately as are moderated to prevent spam
Win competitions at ThePrizeFinder.com